Gareth Southgate: England manager supports FA's Respect campaign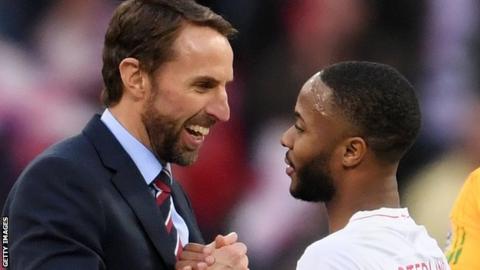 England manager Gareth Southgate has called for "positive encouragement" of young players as he backed the Football Association's Respect campaign.
The FA is aiming to improve grassroots football by influencing the behaviour of new parents, volunteers, coaches and players from ages seven to 18.
"As coaches our job is to help give players confidence," said Southgate.
Southgate has given five tips to "develop young children into people" in a handbook called We Only Do Positive.
Create the right environment
Lead by positive example
Understand your players
Build a positive team around you
Instil an 'anything is possible' attitude
The campaign follows extensive research carried out during the 2017-18 season to understand more clearly the effect of negative behaviour at football matches.
"I'm a big believer that positive encouragement is vital to young people's development," said Southgate.
"Young people, particularly, are impressionable and can easily be affected by comments from adults. So as coaches, teachers and parents, we have to be mindful of the way we communicate.
"When we're trying to help young people to be as good as they can be, help them to improve, it's more important to find people doing things well and highlight those things, than it is to find fault in performances."
Southgate even refers to his own childhood and says his parents were "very supportive but not overly vocal" before he embarked on a career as a professional footballer with Crystal Palace.
"I learnt from every coach I worked with. My dad was one of my early coaches but I learnt different things from every coach at youth level," said the 48-year-old.
"More than anything, they helped reinforce the values that were given to me by my parents."