Sol Campbell: New Macclesfield Town boss 'born to be a manager' - Sven-Goran Eriksson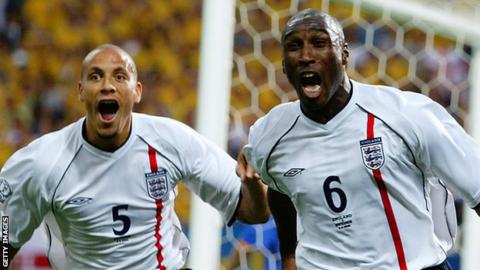 Former England boss Sven-Goran Eriksson says the "football world is open" to Sol Campbell if his time as manager of Macclesfield Town is successful.
Campbell, 44, has taken his first managerial job after being appointed as the new boss of the Silkmen on Tuesday.
Macclesfield are five points adrift at the foot of League Two and have won just twice in the league this season.
Speaking to BBC Radio 5 live, Eriksson said: "He's mature, ready to do it and I guess he is born to do that job."
Eriksson, who managed Campbell as England coach between 2001 and 2006, believes the ex-Arsenal and Tottenham defender has the ability to turn Macclesfield's fortunes around.
"In football you never know what is going to happen tomorrow, whether you're going to win or lose or get a bit of luck, but he has everything he needs to be successful," the Swede continued.
"If he does well at Macclesfield, the football world is open to him. You have to start somewhere and if you're lucky and good, you know what you're doing, then it just goes on.
"He's one of these guys who, as I remember, was very calm but when he speaks, people listen to him. I would say he's a natural leader in that way."
BBC Radio 5 live pundit, and former Blackburn and Norwich striker, Chris Sutton added that the job will be "the toughest of his managerial career".
"Him taking the job, you would've thought he would've done his research on League Two," he said of Campbell.
"You need to know all about all the reserve teams, you need to have connections and contacts. Has he stayed in contact with people all throughout the county?
"If he has then he will have a chance, if he hasn't it'll be a tough job."
It's just about being fair - Yorke
Since retiring as a player in 2012, Campbell has been linked with vacant managerial jobs at Grimsby Town and Oxford United.
He begins his managerial career four years after describing the lack of Black, Asian and Minority Ethnic (BAME) managers in English football as a "sad indictment" of the game.
Campbell's appointment means there are now eight BAME managers at the 92 clubs in England's top four divisions.
Former Manchester United and Aston Villa striker Dwight Yorke said he has also experienced difficulty in finding a managerial job.
"I have to take off my hat to Sol Campbell because he is prepared to go anywhere to get that opportunity," Yorke told BBC Radio 5 live.
"That's all we ever ask for, to have a fair crack at the whip and to be given that chance. People say you need experience, but I don't see [Rangers manager] Steven Gerrard or [Derby manager] Frank Lampard with much experience, Lee Bowyer [at Charlton] or Joey Barton [at Fleetwood], but it's ok for them.
"When it comes to us, it's a big deal. It's just about being fair and at least give us an interview to listen to what we have to say."
Asked if he had been turned down for interviews, Yorke said: "Yes. If we are not being heard then we won't have a clue how we can improve certain areas to give us an edge next time.
"It's quite frustrating but I'm delighted for Sol. He is keen to do the job and I hope things go well for him."
'A foot in the door'
Campbell is the third black manager to be appointed by Macclesfield - former England midfielder Paul Ince took over in 2006, while Keith Alexander was in charge from 2008 until his death in 2010.
Ince, who went on to manage MK Dons, Blackburn, Notts County and Blackpool, says some owners may doubt the ability of black managers.
Speaking to Sky Sports News, Ince said: "When you look at the black managers we've had, most of them have been successful. Chris Hughton's doing an amazing job at Brighton, Keith Alexander, myself for a period, Jimmy Floyd Hasselbaink - it's not that we can't do the job, but obviously some owners feel we can't.
"Hopefully Sol will do well at Macclesfield and move up the ladder like I did.
"It's a shame really, because when you look at his career for club and country, he was a legend of a footballer. Someone like Sol, with his CV, has had to go to that level to get a managerial job. It's sad, but it is how it is and you've got to get on with it.
"He's got his foot in the door and I'm sure he'll be successful."