Jose Mourinho: The bottle-throwing, stat-trashing, De Gea-loving one
Last updated on .From the section European Football607
With his team accused of boring the Old Trafford faithful this season, manager Jose Mourinho is at least providing his own pyrotechnics on the touchline.
The Portuguese celebrated Marouane Fellaini's 91st-minute winner against Young Boys by throwing a crate of drinks bottles to the floor, used his post-match interview to issue a message to his "lovers" and finally to declare his goalkeeper "the best in the world".
Let's get into it.
'You know I'm right'
First, the celebration. Nirvana frontman Kurt Cobain famously marked the end of particularly satisfying gigs, sometimes just individual songs, by reducing his guitar to splinters against the nearest amp.
Mourinho channelled his inner rock god as he took out his emotion on a basket of bottles.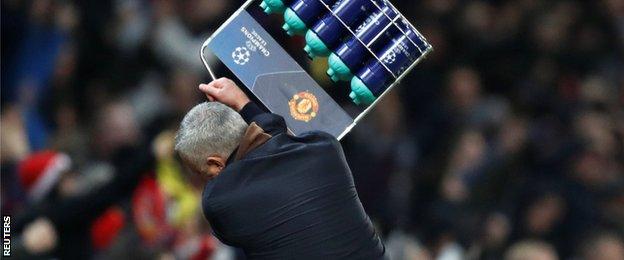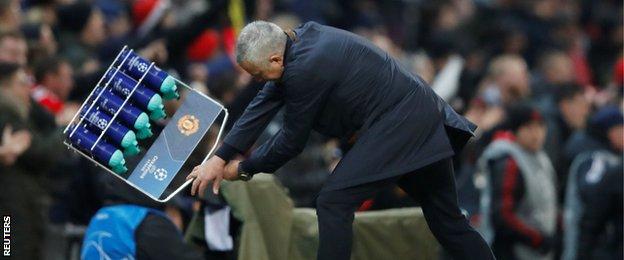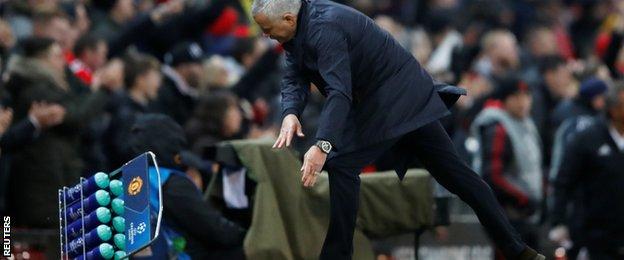 There hasn't been this much disdain for a watercarrier at Old Trafford since Eric Cantona was asked for his opinion on international team-mate Didier Deschamps.
Mourinho was criticised for his reaction by Rio Ferdinand on BT Sport, with the former United defender suggesting it was an attempt to grab the limelight.
Jose disagreed.
"The ones who comment on football, not a lot of them have been on the touchline," he said. "For those who speak about expressing frustration on the bench I would invite them to come and sit there as a manager.
"Maybe they prefer lots of holidays in Barbados and they can go to the TV and use their electric dummies.
"That is much more comfortable than being on the bench. I am pretty sure a proper football manager would never criticise another for what they do on the touchline. For the ones who have a nice life, it is different."
This is not Mourinho's first water bottle-based incident - in November 2016 he was sent off and had to serve an additional one-match touchline ban after kicking a water bottle deliberately during a Premier League game against West Ham.
Arsene Wenger was sent off for booting a water bottle in frustration when he was managing Arsenal at Old Trafford in 2009.
And Liverpool manager Jurgen Klopp apologised for throwing one to the floor in last season's draw with Arsenal.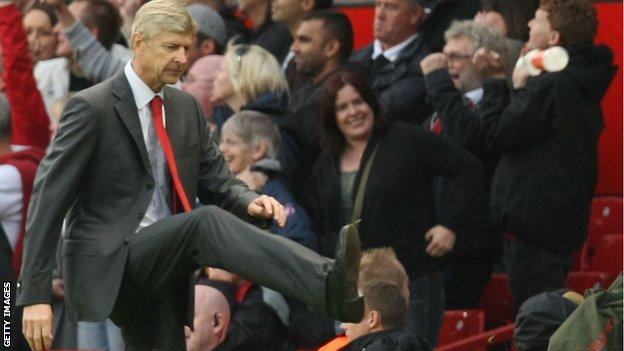 14 from 14
Mourinho was in no mood to discuss the statistical small print of his side's season either.
United are closer to the bottom of the Premier League than the top, while conceding more than four times as many goals as rivals Manchester City and Liverpool.
An 'expected goals' graphic produced by number-cruncher Michael Caley after the weekend draw with Crystal Palace showed the goalless stalemate was exactly what they deserved.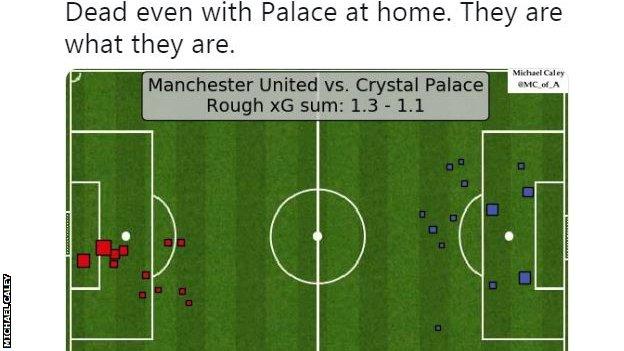 "The most important thing is to qualify and for some of my lovers, and those that like stats, I am 14 seasons in the Champions League and 14 times my teams have qualified through to the group stages," said Mourinho.
"The season I was not in the Champions League, I won the Europa League."
The Portuguese has done his homework. Nothing wrong with that stat.
How Jose Mourinho's teams have fared in the Champions League

Stage

Seasons

Winners (x2)

2003-04 & 2009-10

Semi-finalists (x6)

2004-05, 2006-07, 2010-11, 2011-12, 2012-13 & 2013-14

Last 16 (x6)

2005-06, 2008-09, 2014-15, 2015-16, 2017-18 & 2018-19
'I know he wants to stay'
Mourinho did have praise for his goalkeeper though after David de Gea produced a superb sprawling stop to keep United level earlier in the match.
The 28-year-old is committed to Old Trafford until the summer, with the club having an option to extend to 2020.
"He is a world-class player; the best goalkeeper in the world," said Mourinho.
"I know he wants to stay and the agent wants to do what the player wants. The board want him to stay and are working on that."