Man Utd's Nicky Butt says Uefa needs to put more money into youth league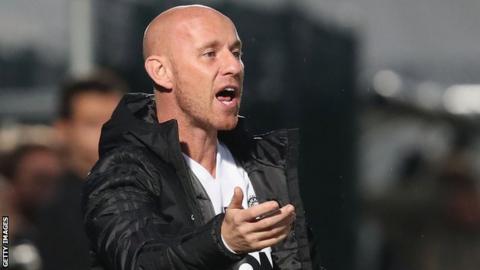 European football's Under-19 league needs £10m of investment from Uefa to make it better, says Manchester United academy director Nicky Butt.
The competition runs parallel to the Champions League, with most matches played on the afternoon of the senior team's game in the evening.
Butt wants the extra funding to help smaller teams travel to games earlier so they can play the night before.
"They have to sit down and make it better," Butt told BBC Sport.
"The environment is great, the pitches are usually good, the teams you play against are really good but then there's nobody in the crowd so how can you get them used to that?
"I would get some money out of [European football's governing body] Uefa to put into a pot to fund tier two or tier three teams - not us, not the big hitters.
"You need more people in the ground, it's a no-brainer. It's difficult to do because you've got 30 or 40 staff members to come over and stay in a hotel for an extra night and you might need to get a different flight home as well, so it's a big expense for some clubs.
"The amount of money that is in the Champions League there should be a way of putting a pot together of £10m or something like that for the tier two or tier three teams."
Chelsea and Manchester City both progressed to the semi-final stages of the youth competition last season.
This year, Manchester United are through to the last 16 as group winners but Manchester City are out after losing 2-0 in Lyon on Tuesday.
Liverpool and Tottenham could both still win their respective groups to instantly qualify for the last 16. However, the eight group runners-up will go into a two-legged play-off against eight 'Domestic Champions path' team.
Chelsea are one of the teams who go into the play-offs as a Domestic Champions path team, having won last season's FA Youth Cup. They won the Uefa Youth League title in 2014-15 and defended it a year later, but were beaten by Barcelona in last year's final.
'It took us six years to get used to European football'
Former England midfielder Butt won the Champions League with United in 1999 and believes the competition provides valuable experience in getting used to European football.
"When we were growing up we didn't have this competition, you just played your local teams and your national teams," Butt said.
"Then you go into European football and make your debuts and it hits you that it's completely different and you have no experience of it."
He added: "It took us six years to get used to European football, a lot of rollickings from manager Sir Alex Ferguson, because we weren't used to it.
"We weren't used to people diving, to touching people and they go down and win a penalty.
"Now they know that. We have a lot of European players in the dressing room now and that helps our lads every day and then they have this and it's a really impressive tournament.
"I think it could be better, the kick-offs could be at different times to get a crowd in because that's missing, but when it comes to the football it's a good competition."