Harry Arter: On-loan midfielder could stay if Cardiff City survive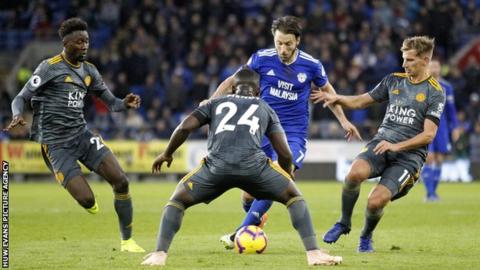 Midfielder Harry Arter has said he would be happy to stay at Cardiff City if the Bluebirds survive in the Premier League.
The 28-year-old Republic of Ireland international is on a season-long loan from Bournemouth.
Cardiff are in the bottom three and although happy with the Bluebirds, Arter wants to remain in the top-flight.
"Playing Premier League football is all I want to do," Arter said.
"That's something I feel I've worked very hard for in my career and not something I want to give up very easily.
"I'm 29 next month and I know if I step out of the Premier League it might be hard to get back there.
"I've said to my family already that the dream season would be Cardiff to stay up and the manager to want to carry on next year and then hopefully I can sign.
"I've loved every minute of being here. Every training session I've loved and most importantly the games.
"Playing at home has had a real meaning to it this year - the fans have been brilliant throughout."
Bluebirds manager Neil Warnock celebrates his 70th birthday on Saturday - a day after Cardiff host Wolves.
Arter said he had not yet informed Warnock what his plans were beyond the end of the season.
"I think he can probably tell because every game he tells me to calm down a little bit," Arter added.
"It's just because I want to win probably more than anything.
"My desire's there to win games and sometimes I was picking up too many bookings, which he wasn't too happy with.
"I'll be doing the best I can do every week."
Arter will however have a new manager at international level after Republic of Ireland boss Martin O'Neill and his assistant Roy Keane stepped down.
Mick McCarthy will return for a second spell in charge with ex-Dundalk boss Stephen Kenny succeeding him after Euro 2020.
"I was really disappointed for Martin because he's done so well for us as a country and there was a lot of pressure from the media in Ireland to have a change of manager," he said.
"The squad has changed so much over the last 18 months and feel it was a very difficult job for him to get the lads playing the way he wanted in a short period of time.
"Martin's someone I'm really grateful for because he gave me my debut back when I was in the Championship.
"Hopefully he finds something that he wants to do, the right opportunity comes up for him and I'm sure he'll be successful at it.
"I'm not sure what Roy wants to do next but I wish him the best."
Former Manchester United midfielder Keane had a row with Arter which resulted in the player pulling out of a Republic squad.