Napoli's Kalidou Koulibaly: the Senegalese who could have been world champion
Last updated on .From the section African
This week BBC Sport will be profiling the five players on the shortlist for BBC African Footballer of the Year. Next up is Kalidou Koulibaly, the Napoli and Senegal defender. Details of how to vote further down this page.
When France won the World Cup in July, Kalidou Koulibaly could be forgiven for feeling a pang of regret.
Born, raised and schooled in France, the 27-year-old could very easily have also been drenched by rain and confetti on the winner's podium inside Moscow's Luzhniki Stadium.
Instead, the Napoli defender was part of a Senegal side that agonisingly missed out on a place in the knockout stage through the fair-play rule.
Despite this heartbreak, Koulibaly says he is no way fazed by his decision to choose the Lions of Teranga over his native country.
"I don't have any regrets because I want to write the story of the future of Senegal football and I hope I'll be able to do that," the centre-back told BBC Sport.
"For me [the World Cup] was a good experience because I wanted to show that Senegal is one of the best teams in Africa."
Born in north-eastern France to Senegalese parents, Koulibaly says he has been heavily influenced by the multi-cultural nature of his upbringing.
"I had the French culture at school and I love this culture but I also had another culture at home - that of Senegal," he explains.
"I think this way of growing up has made me the person I am today - because I had the two cultures."
Voting details
Vote closes on 2 December at 20:00 GMT.
The final results will be announced in Focus on Africa on World News and World Service Radio on 14 December, starting at 17:30 GMT.
If you are viewing this page on the BBC News app please click here to vote.
Koulibaly represented France at youth level and played alongside world champion Antoine Griezmann as the European nation finished fourth at the Under-20 World Cup in 2011.
As his career progressed, having started with Metz in France before passing through Belgium (with Genk) en route to joining Napoli in 2014, Koulibaly waited for a call that never came from France coach Didier Deschamps.
So in 2015, the towering centre-back pledged his future to Senegal.
"I spoke about the decision with my wife and I chose to go with Senegal," he says.
"When I saw the light in the eyes of my parents when I told them I had chosen Senegal, I was really happy and comfortable with my choice."
Five months after his competitive Senegal debut, Koulibaly was surprised to learn that Deschamps was finally considering him for France.
Nonetheless, he is now a regular in the heart of Senegal's defence while also steadily gaining a growing pool of admirers after a series of impressive seasons for his Italian side.
"Italy is the place where all the top defenders need to go to test themselves," former Senegal international Salif Diao told BBC Sport.
"He has massive potential and has been improving every year to become one of the best defenders in the world."
Mastering the art
Much of this progress came 12 months into his five-year contract with Napoli, when Maurizio Sarri took charge.
"Sarri's arrival was crucial to his progress as the coach spent hours fine-tuning his defence on the training ground," says Italian football writer Adam Digby.
"That constant, repetitive drilling undoubtedly helped Koulibaly grasp the nuances of his role. He blossomed into the defender we see today, almost entirely because of Sarri's work."
Koulibaly is equally keen to heap praise on the Chelsea manager for his influence.
"He really is a genius, he sees things others don't see," he told Italian newspaper Il Messaggero.
"He makes you understand how football is and that it isn't as unpredictable as it seems. He's a scholar - any question you ask him, he always has an answer."
Last season, while Sarri was still at the club, Koulibaly raised his game to new heights as Napoli attempted to disrupt the stranglehold that Juventus hold over Serie A.
The two sides met during the final weeks of the season in Turin where Koulibaly, so good in defence that the hosts failed to register a shot on target, also scored a last-minute winner.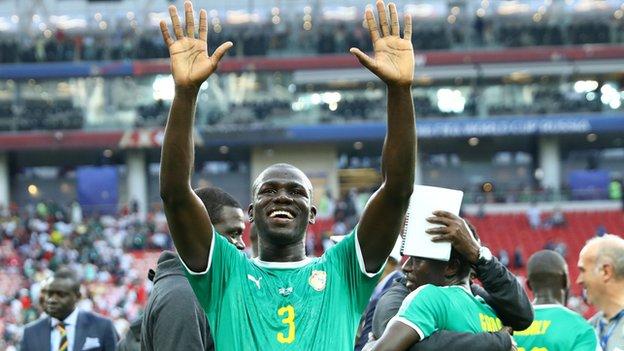 Celebrating deliriously, Koulibaly was the man of the moment - a highlight in a season littered with imperious performances and a tally of five goals that helped showcase his all-round ability.
Despite the result, which put Napoli a point behind Juventus with four matches left, The Old Lady clung on to secure a seventh successive Serie A title.
In May, the Napoli reins were handed to Carlo Ancelotti who has needed little time to determine the qualities of his Senegalese star.
"Ancelotti has recently compared Koulibaly to Paolo Maldini and Alessandro Nesta," says Serie A writer Chloe Beresford.
"Now he has the chance to work under a coach of his quality, it will allow him to go even further in the game."
Koulibaly's ever-increasing standing has resulted in plenty of speculation about his future, with several leading clubs reportedly interested - and former Liverpool midfielder Salif Diao believes he would thrive in England.
"He's got all the qualities to do well in the Premier League," added Diao.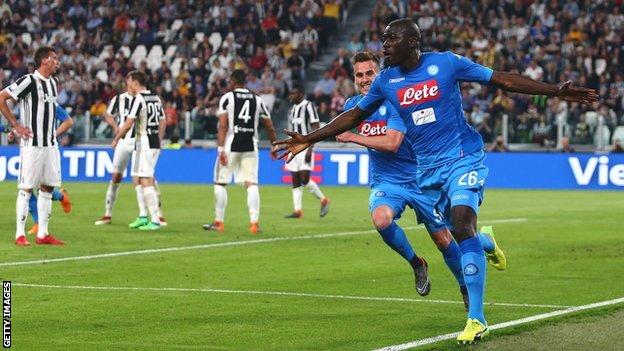 "He's strong, can play hard when needed, can read the game very well and is not scared to get stuck in.
"Moving to England will be his natural progression. He can test himself in a league where the game is a lot quicker, and he will get personal satisfaction playing against the very best."
Koulibaly has previously spoken of his fondness for Naples and seems at home at the Stadio San Paolo.
But as his decision to represent Senegal above France has shown, he is not afraid to ditch a blue jersey for another colour.