PSG 2-1 Liverpool: Jurgen Klopp angered by antics from home players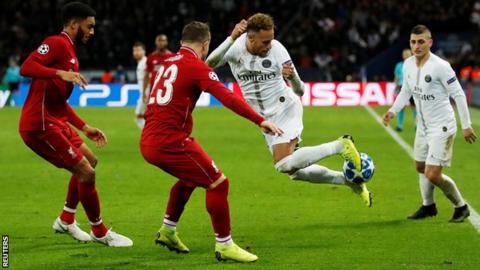 Before, during or after a game, there is never a dull moment when Jurgen Klopp is around.
After being titillated by the Uefa interpreter pre-match, the German saw his Liverpool side beaten 2-1 at Paris St-Germain, and then vented his anger after the game.
Was it sour grapes or did he have a point? Here are three incidents he took issue with.
Liverpool made to look like 'butchers'
Liverpool claimed last season's Premier League fair play award for the best discipline during the season, but the Reds showed a more aggressive edge in Paris.
With Christmas approaching, Polish referee Szymon Marciniak gave out eight cards, six to Liverpool players.
Klopp's side conceded 20 fouls, compared to PSG's 12, and the manager was astonished that even Joe Gomez was cautioned.
"He is not the nicest boy on the planet now," said Klopp of the England defender.
But, having fallen behind, it turned into a fractious affair and Liverpool could not find the equaliser, with PSG players taking their time in getting back to their feet after fouls.
"I know it will be the headline," Klopp said, "but the number of interruptions in the game was not cool.
"We won the fair play award two times in England and tonight we looked like butchers with the number of yellow cards.
"It was clever of PSG, especially Neymar, but a lot of other players went down like there was something serious.
"We were not that calm anymore, rather frustrated and negative frustration does not help. That is a job for us to deal with."
Did he have a point? Maybe.
No red card for Verratti
Marco Verratti ran the midfield for PSG alongside Marquinhos, but the Italy international may have been lucky to stay on the field.
With just 24 minutes played, Verratti lunged in high with studs up to catch Gomez high on the shin, and the referee immediately reached for his pocket, only to brandish a yellow card.
Klopp said: "Everybody has eyes, everybody could see it but it is only a story if I see it. I don't believe that.
"For me, it is a red card, but it changes nothing. I do not care, I had a very good view of it and it was for sure not just another yellow card."
Did he have a point? Yes.
A penalty... which took a while to award
Liverpool's only shot on target came on the stroke of half-time courtesy of James Milner scoring from the penalty spot... a kick which initially was not given.
"I saw the penalty, it was inside the box but he didn't even give a foul," said Klopp. "I have no idea why it was a late decision. It was not even a foul for him. Unbelievable."
Did he have a point? Yes.