Rangers hit with SFA charges for claims of Willie Collum 'bias' over Daniel Candeias red card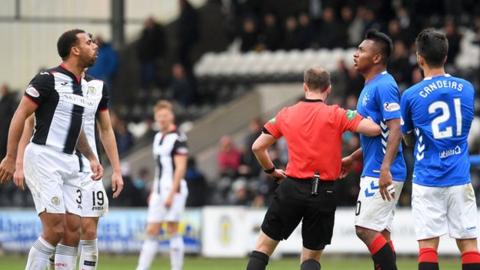 The Scottish FA has charged Rangers with bringing the game into disrepute after the club's criticism of referee Willie Collum.
The Ibrox club released a statement and wrote a formal complaint to the SFA following the sending-off of Daniel Candeias against St Mirren this month.
The governing body has now issued Rangers with a total of five charges including indicating bias.
Rangers have until 4 December to respond to the charges.
They will then face a hearing on 19 December.
Rangers were enraged by Collum's decision to show Candeais a second yellow card for what the SFA later - in their written reasoning for the decision - called "gestures" at St Mirren defender Anton Ferdinand, immediately after Alfredo Morelos scored their second goal of a 2-0 win in stoppage time.
Rangers boss Steven Gerrard branded the dismissal "embarrassing" but the club had an appeal based on 'mistaken identity' dismissed.
In a statement responding to the appeal decision, Rangers called Collum's decision "inexplicable" and also claimed "it is understood that a number of people within the Scottish FA are in no doubt Collum's judgment was flawed" as the club announced it would be submitting "a formal complaint about the performance of this referee".
The statement concluded: "The manner in which he reacted to an incident involving our player made it obvious he did not give due consideration to his decision.
"This is by no means the first time errors of judgment have been made in matches involving this official and clearly there is an underlying issue which requires to be addressed."