Senegal replace Tunisia as top-ranked African team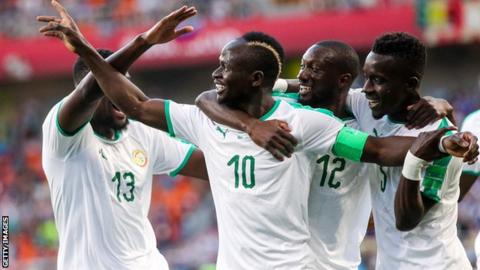 Senegal replaced Tunisia as the highest ranked African national team when the monthly statistics were released by football's world governing body Fifa on Thursday.
The Teranga Lions rose from second place in the rankings following their 2019 Africa Cup of Nations qualifying victory in Equatorial Guinea earlier this month.
Tunisia lost away to Egypt in the same competition, and were also beaten at home by Morocco in a friendly.
Mauritania, who qualified for the Nations Cup for the first time in their history, were among the African teams to go up in the rankings.
They rose by three places in the world and are just outside the top 20 African nations.
Morocco, who moved up seven places, were the top 50's biggest climbers after morale-boosting victories over Tunisia and Cameroon.
Only five African countries - Senegal, Tunisia, Morocco, Nigeria and the Democratic Republic of Congo - were among the top 50 in the world.
Amongst other African teams improving in the rankings were Uganda, Mozambique, Sudan, Liberia, Comoros and The Gambia.
Africa's Top 20 on November's Fifa rankings (global position in brackets):
1. Senegal (23)
2. Tunisia (26)
3. Morocco (40)
4. Nigeria (44)
5. DR Congo (49)
6. Ghana (51)
7. Cameroon (55)
8. Egypt (56)
9. Burkina Faso (61)
10. Mali (64)
11. Ivory Coast (65)
12. Guinea (66)
13. Algeria (67)
14. Cape Verde (72)
15. South Africa (72)
16. Uganda (75)
17. Zambia (82)
18. Congo Brazzaville (84)
19. Gabon (85)
20. Benin (94)