Eden Hazard: Chelsea ready to agree new contract immediately - Maurizio Sarri
Last updated on .From the section Chelsea102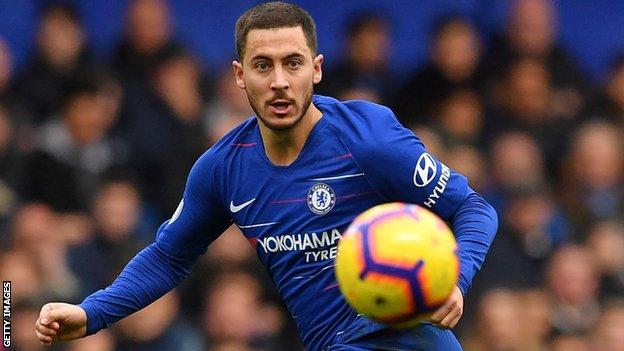 Chelsea are ready to "immediately" agree a new contract with Eden Hazard, but are waiting for the forward to make a decision, says boss Maurizio Sarri.
Sarri also wants Chelsea to rethink their policy on players aged over 30 so he can keep defender David Luiz and midfielder Cesc Fabregas.
"I want Eden here, of course," said the Italian, who took charge in the summer.
"But I want him here if he wants to stay here.
"The club is available to sign a new contract immediately, but it's up to him if he wants to renew or not."
Hazard said earlier this season he would not be leaving the club in January, and Sarri says negotiations are ongoing.
"I know very well that there are discussions between the club and the manager of Eden every week, I think," he added.
"So if there is something new, the club will call me immediately."
Sarri wants to keep Luiz and Fabregas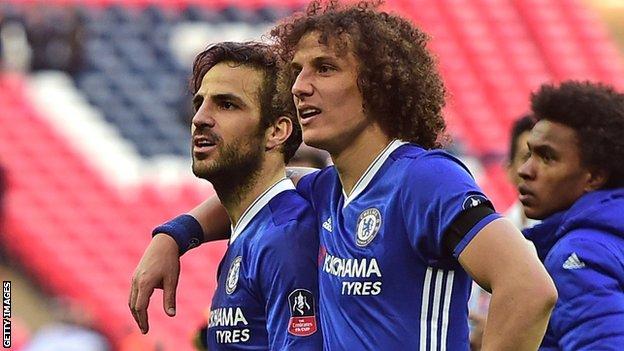 Luiz and Fabregas will both turn 32 before the end of the season, when their contracts are due to expire.
Chelsea, who gave 29-year-old defender Cesar Azpilicueta a new four-year contract on Tuesday, have a policy of only giving 12-month deals to over-30s.
"I know very well it's not easy," said Sarri.
"But I think that we can do a new deal for both. The club want a short contract and the players want a long contract so it's difficult.
"I think at the end we can find a solution."
Sarri says he spoke to the club a month ago about deals for Luiz and Fabregas, who he regards as "very important players".
"David and Cesc are leaders," he said. "I think it's very important for me, for the staff, also for their team-mates, if they stay with us.
"It's very difficult to find a centre-back for this level, and it's very difficult to find a central midfielder technically like Fabregas."
Sarri also says England midfielder Ruben Loftus-Cheek will not leave the club in January, despite reports the 22-year-old may want a loan move.
"I want him to stay with me, to stay with us. I think there is no chance," said the Italian.