Tom Rogic: Celtic likely to be without midfielder for Rangers game - Brendan Rodgers

By Jonathan Sutherland
BBC Scotland
Last updated on .From the section Celtic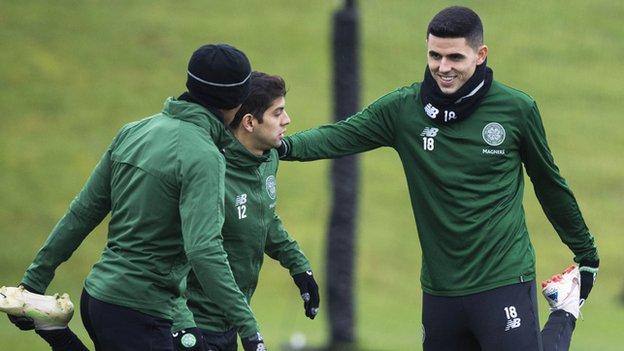 Celtic are likely to be without Tom Rogic for next Saturday's Old Firm game against Rangers, manager Brendan Rodgers has conceded.
Rodgers said on Friday he hoped the Football Federation of Australia would "see sense" and allow the midfielder to play at Ibrox before flying to Dubai.
But Australia want Rogic to meet up with their squad on 27 December, the day after Celtic face Aberdeen.
"My feeling is it won't be resolved," Rodgers told BBC Scotland on Saturday.
"My feeling is he'll go after the Aberdeen game. It's a real real shame, because he's enjoyed those games. But we just have to get on with it and we'll go there with a good squad."
Rogic - along with Hibernian trio Mark Milligan, Jamie Maclaren and Martin Boyle - is due to join up with the Australia squad for the Asian Cup, with the Socceroos' first fixture against Jordan on Sunday, 6 January, eight days after the Old Firm game.
"I think it's just unfortunate that he's been put in a position that he didn't really want to be in," Rodgers added.
"He clearly wants to play in those types of games which are very important for us and for him. He's a professional player and of course he wants to go after that and represent his country in a tournament that he's very proud to do so."
Rodgers said on Friday that he had hoped to forge a more accommodating relationship with the FFA over player release.
"I spoke with Graham Arnold, the manager, here and I had two really good days of trying to ensure relations are good between international teams and club teams.
"But you do that through working together and what is the best for each player. And we feel Tom can play and be available for the 29th [against Rangers] and fly out after the game and meet up in Dubai on the 30th and still be there virtually a week before he's due to play his first game."
Rodgers feels the situation is particularly galling because Rogic frequently misses club matches because of international commitments.
"A lot of the time he's travelling to the other side of the world to play and we normally forfeit a game when he does come back because of the exertions of travelling across the world, playing for his country, coming back, the tiredness, the fatigue, everything that takes out of him," he added.
'Maybe they are flexing a little muscle' - analysis
Former Celtic & Australia striker Scott McDonald on Sportsound
I don't know what the Australian FFA and Graham Arnold are playing at. I don't see why these players can't play on the 29th and get straight on a flight to Dubai. There's plenty of time to recover. If it was me, I'd certainly want to play in the Old Firm fixture.
In any of my dealings with them (FFA) they were always more than helpful and understood. Different managers think different things, but Graham Arnold has been involved in these set ups for a long time. The only other thing is that I could put it down to is that the FFA has a new board. Maybe they're flexing a little muscle. I can't fathom why they wouldn't allow these players to play these fixtures.