Man Utd: Paul Pogba thanks Jose Mourinho for helping him 'improve as a person'
Last updated on .From the section Man Utd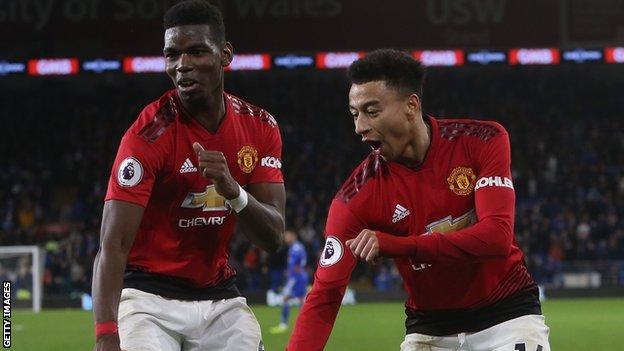 Manchester United midfielder Paul Pogba has thanked former boss Jose Mourinho for helping him "improve as a person".
Mourinho was sacked on Tuesday after two and a half years as Red Devils manager, with reports his relationship with Pogba was problematic.
Pogba was part of the United side that won the League Cup and Europa League during Mourinho's first season.
"We won trophies with Jose and I want to thank him for that," he said.
"He makes me improve, as a person as well, and that's it. That's the past, I want to thank him for that.
I'm sure that is the same for all the players and now we are looking forward to the next game."
The 25-year-old France international was speaking after United's 5-1 victory over Cardiff in Ole Gunnar Solskjaer's first match as interim manager.
That took them sixth in the Premier League, eight points adrift of the top four.
They finished second last season - albeit 19 points adrift of champions Manchester City - and Mourinho was sacked after a chaotic start to this campaign.
In September, he told Pogba he would not captain the team again, and a day later the pair were filmed having a tense training-ground exchange.
Pogba says he is focused on helping United "go back to the top of the league".
"The performance of the team was great and we are happy that the first game of the manager starts like this," he said. "It's important now to carry on like that.
"We cannot play like this and win with five goals and then the next game lose."
Solskjaer hails 'exhilarating' Man Utd
Pogba had been a forlorn-looking substitute for United's past three Premier League matches, but returned to a more attack-minded XI at Cardiff.
In all Solskjaer made four changes to the side that slipped to a 3-1 defeat to Liverpool.
Jesse Lingard scored twice to seal victory after Marcus Rashford's stunning free-kick, a deflected effort from Ander Herrera, and a fabulous team goal finished by Anthony Martial.
"I'm pleased with all of them - every single one of them - but of course it's a threat," Solskjaer said.
"When you've got Martial and Jesse Lingard down either side, Rashford up top with Paul supporting them, it's exhilarating to watch and as long as we keep that standard up we'll keep up picking points."
'Ole will make it enjoyable again' - Rooney gets in touch
Wayne Rooney was among those to contact Solskjaer in the build-up to Saturday's game - United's record goalscorer urging his former team-mate to bring a sense of "enjoyment" back to the club.
"I thought I'd give him a message of congratulations, my feelings of how it's been from speaking to some players and what I felt needs to change," Rooney told BT Sport.
"First of all it was just get the lads enjoying playing football. I think that's what the lads wanted, that's what they were after and he's definitely the guy to make them do that."
Rooney, who won the Premier League five times with United, added he felt the atmosphere around his former club had already changed in the short time since Mourinho was replaced by Solskjaer.
"I stay in touch with a lot of people at the club, speak to them quite a lot - certainly this week - and I think, to be a successful football club, you need everything to be right.
"You need the staff at the training ground to be right, the groundsman whoever that is, they need to feel happy and that rubs off, that rubs off on the players and I think that relationship between some of the staff and some of the players obviously wasn't great.
"But I think also bringing Ole in, bringing [Sir Alex Ferguson's former assistant manager] Mike Phelan in, that already has changed. I think the staff down at the training ground are smiling, they're happy and that rubs off on the players."
Reaction - 'the Manchester United I expect to see'
Former Arsenal and England striker Ian Wright on Match of the Day:
"We all know Manchester United have quality players. Cardiff could not get close enough to them. That is the Manchester United I expect to see. You expect that attitude and effort. They have the players to do it and they should have been doing it. It is an unbelievable start for Ole Gunnar Solskjaer and with the games coming up it could be a good run for Manchester United. "
Ex-Newcastle and England striker Alan Shearer on Match of the Day:
"There was no coincidence of the timing. It gives the new manager a chance to get the best possible start with the run of games coming up. Manchester United outran their opponents for the first time this season. There was more movement going forward. They were passing forward - not left, not right but actually forwards. The first thought was that. There was much more about that Manchester United team than we have seen in recent weeks. There is no doubt about it, the players stopped running for [Jose Mourinho]."