Ole Gunnar Solskjaer: Man Utd interim boss enjoys amazing debut
By Simon Stone
BBC Sport at Cardiff City Stadium
Last updated on .From the section Man Utd417
Even Ole Gunnar Solskjaer couldn't quite believe it.
As Marcus Rashford's third-minute free-kick whistled past goalkeeper Neil Etheridge and into the corner of the Cardiff net, Solskjaer's initial reaction was 'wow'.
After that, reality took hold. Manchester United's newly installed interim manager clenched his fists and turned to hug Mike Phelan - a man, like Solskjaer, who is a blast from Sir Alex Ferguson's past, restored to the assistant manager's role he vacated when David Moyes arrived in 2013 and cleaned out his illustrious predecessor's entire backroom team.
It was the prelude to a quite amazing evening for the 45-year-old Norwegian at Cardiff City Stadium.
In one game, he has achieved something Moyes, Louis van Gaal and Jose Mourinho couldn't do between them in almost five and a half seasons - he managed a United team that scored five times in a Premier League game.
And it was the first time a Solskjaer team had scored five in this stadium, even though he spent nine months here as Cardiff's manager in 2014.
A mixed reception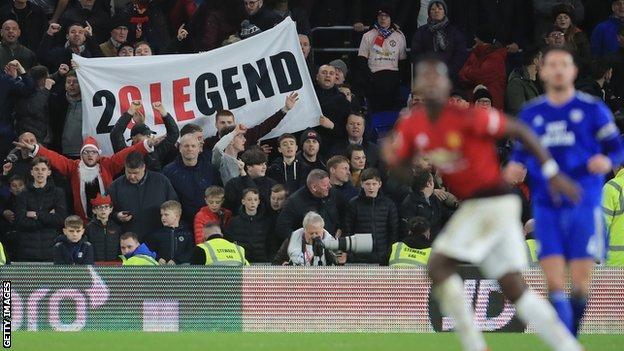 The reception Solskjaer received from the home fans was odd.
Speaking one-to-one, they were largely indifferent to the man who took them down to the Championship five seasons ago. Opinion ranged from the Norwegian being hopeless to the wrong man in the wrong place at the wrong time. All felt Solskjaer was a decent bloke and the hope - if it existed - was it went well for him at Old Trafford once his first assignment had been completed.
Yet, when he bounced off the visitors' team coach 90 minutes before kick-off, he was greeted by a chorus of loud boos. To his credit, Solskjaer did not flinch, responding only with a polite smile as he marched through the visitors' entrance.
For the travelling United supporters, it was another matter entirely.
Beforehand, those I spoke to felt there was a chance to reconnect the club to its glorious past.
As the teams came out, the 3,000 gathered in the visitors' section went through a lengthy play-list of songs dedicated to the Norwegian, one of the most popular figures to play for the club during the Ferguson era.
At the final whistle, as they celebrated in a manner they have rarely had chance to in recent years, Solskjaer went to them and applauded.
If Mourinho had responded to a victory in this way, he would probably have been accused of milking it. It is fair to assume Solskjaer will not.
"It makes you proud," he said of the reception. "It's emotional and I am happy for them because it's a long ride back to Manchester. I am pleased they can talk about the boys."
Pog-back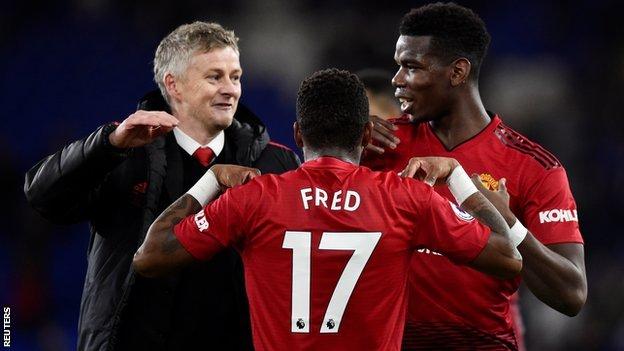 Little about Mourinho's time as United manager generated debate quite like his treatment of Paul Pogba.
During 2018 alone, the club's £89m record signing was dropped, recalled, made captain, stripped of it, criticised and finally dropped again. For the defeat at Liverpool, the Frenchman sat on the bench in the rain throughout what turned out to be Mourinho's final game in charge.
With a new man in charge, there was little likelihood of that exile lasting.
Getting more, much more, from the enigmatic Frenchman is one of the major tasks facing Solskjaer over the coming months. He thinks the World Cup winner can be "a six, an eight or a 10".
On this occasion, he was part eight, part 10. He won the free-kick for Rashford's opener with a nimble dart through midfield, though a combination of his team-mate's deceptive shot and Etheridge's failure to read it were the crucial elements.
He teed up Ander Herrera for the second and played a delicate pass to Jesse Lingard for the visitors' fifth.
In doing so, Pogba made as many assists in one game as in the previous 17 top-flight matches this season combined.
Solskjaer said: "Paul has got the quality to play in so many positions. He was excellent."
Make the pitch big
Tactically, the changes were subtle.
The formation remained 4-3-3, but with Pogba slightly more advanced, Herrera and Nemanja Matic were a touch deeper in midfield. Full-backs Ashley Young and Luke Shaw were encouraged to get wide and up the pitch. The front three played with a fluidity rarely seen this season.
Twice during the first half, Solskjaer urged Pogba to get the ball wider. It was not quite a return to the days of marauding wingers - United simply do not have the personnel for that. It was an attempt to make the pitch bigger. On a bigger pitch, better players have more chance to impose themselves, which is exactly how it turned out.
Solskjaer was also clear-headed enough to call Phil Jones over for some instructions as Rashford lined up that first, fateful, free-kick. It stands to reason after only three days and two training sessions that the Norwegian has only scratched the surface when it comes to getting his philosophy across.
Of just as much significance was the collective effort within the technical area.
After Rui Faria stood down as his assistant at the end of last season, Mourinho tended to be a lone voice on the touchline.
It was therefore noticeable that, in addition to Solskjaer, Phelan and coach Michael Carrick offered instruction from time to time. Another member of the backroom team, Kieran McKenna, was also on the periphery, if not talking to the players, offering advice to his fellow coaches.
Between them they decided on the substitutes. But though the personnel changed, the formation did not, so Lingard was at the apex of United's attack when he scored their fifth.
Not that Solskjaer was entirely satisfied: "In some periods we were too congested, with four or five players on top of each.
"When we get to work a little bit with each other and understand we can trust each other to do a job, then we can have a little bit more distance and we might even improve."
'We have caught teams before'
Solskjaer spoke afterwards about taking it one game at a time.
He knows - as Cardiff manager Neil Warnock pointed out by accusing his side of 'Sunday League defending' - there are much sterner tests to come.
This might not be on Wednesday, when Huddersfield visit Old Trafford, but in January - when United visit Newcastle and Tottenham, February - when they play Liverpool and Paris St-Germain, and March - when three successive opponents are PSG, Arsenal and Manchester City.
Only after that can a proper judgement be made on his impact - and whether he really has a shot at landing the job on a full-time basis.
But Solskjaer, after cutting the gap to fourth place to eight points, can reflect on a very satisfying start and a quite unexpected experience to the one he imagined a week ago, when he was back home in Norway, looking forward to a quiet Christmas with his wife and three children.
"We have caught teams up before at this club," he said.
"I don't want to look too far ahead but Manchester United teams always play well in the second half of the season."