Peter Schmeichel: Ex-Man Utd keeper considering applying for director role
Last updated on .From the section Man Utd468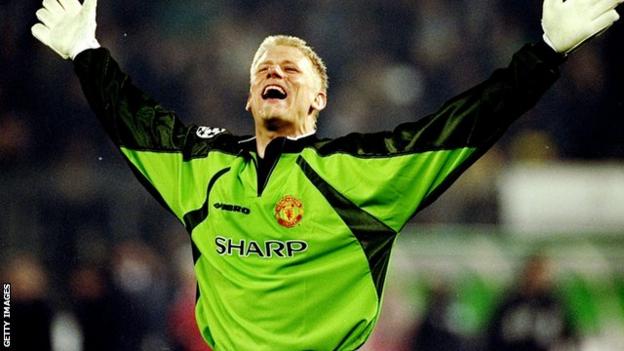 Manchester United great Peter Schmeichel says the club should appoint a director of football and believes he would make a good candidate.
They do not have a director of football but are expected to recruit one.
"I'm actually thinking about putting my name in there," Schmeichel said.
Former Tottenham and Southampton head of recruitment Paul Mitchell, who is at German top-flight side RB Leipzig, has been linked with the position.
Speaking to BBC Radio 5 live's Sportsweek, former Denmark goalkeeper Schmeichel added: "It's a tough thing to find out about yourself. Everyone looks at you, the scrutiny, and I'm not afraid of that. It's also a really big change in what I've done.
"I really want to get involved in football again at some point. I know I'm getting older, but my life has just turned out a different way after I retired from football."
The 55-year-old, who was capped 129 times by Denmark, spent eight years at Manchester United as a player, winning five Premier League titles, three FA Cups and the Champions League under manager Sir Alex Ferguson.
On the Red Devils recruiting a director of football, Schmeichel - who also played in England for Aston Villa and Manchester City - said: "I think it is a good idea.
"What's really important is to get the Manchester United culture back and the identity back.
"I would like to see someone who has played there and can bring some of that Sir Alex mentality back to the whole of the football club.
"I'm considering: 'Do I have the qualities?' And if I come up with an answer to that question, then I will put my name in the hat.
"I'll have a good think about this over Christmas and New Year and make a decision."
'Molde didn't see United coming'
Mourinho was sacked after two and a half years in charge with United sixth in the Premier League, 19 points behind leaders Liverpool, who had beaten them 3-1 two days before his dismissal.
After Saturday's victory at Cardiff, they are eight points behind fourth-placed Chelsea after the Blues lost 1-0 at home to Leicester.
Solskjaer, who signed a new deal as manager of Norwegian club Molde earlier this month, was appointed interim boss until the end of the season on Wednesday.
Molde managing director Oystein Neerland said they were called by United executive vice-chairman Ed Woodward on Tuesday and both he and Solskjaer "didn't see it coming."
"I think it is double sided," Neerland told Sportsweek on Sunday.
"On one hand, Molde lose their manager for the next months who had just agreed a new three-year contract. On the other hand, Molde will not get in the way of such an opportunity.
"When the biggest club in the world call and ask to borrow your manager from a club the size of Molde, you have to say yes.
"Solskjaer has been dreaming about this. It is no longer a dream."
Solskjaer has said he would love to remain manager but has not discussed taking the job on a permanent basis. He has also vowed to "get the players enjoying football" again.
Asked if the 45-year-old could stay on at Old Trafford, Neerland said: "The deal is until the end of the [Premier League] season. We think he will come back in May and are preparing for his return."
Solskjaer relationship with Pogba 'important'
Schmeichel played alongside Solskjaer for three years, winning the Treble - Premier League, Champions League and FA Cup - in 1999.
"Ole will not take any rubbish from anyone. He knows exactly what the club is supposed to be," said the Dane.
"He has not only played with Sir Alex Ferguson as a manager, but he was a coach under Sir Alex Ferguson - so he knows it as well anybody else.
"I think that is something he can inject in the next coming months."
Schmeichel thinks Solskjaer will bring the best out of record signing Paul Pogba, who was reported to have had a problematic relationship with Mourinho.
Pogba was a youth player when Solskjaer was the reserve team coach at Old Trafford.
"To appoint a manager who has worked with him before and made him play football before, I think that's a very important point," added Schmeichel.
"I want to see Pogba being a Manchester United player and being as good as everything else he does in life. He's absolutely brilliant on social media and he's projecting himself to be this incredibly modern player.
"We have seen that when he was at Juventus, we have seen that with France, but we haven't seen that with Manchester United.
"This is like Pogba has won the war and that cannot happen for Manchester United. I think it is really important that the club now deals with the situation. Pogba, or any other player, should not be bigger than the club.
"Ole has to now make someone like Pogba play to the potential that he already knows he has got."