North Wales Police investigating alleged racism during Wrexham match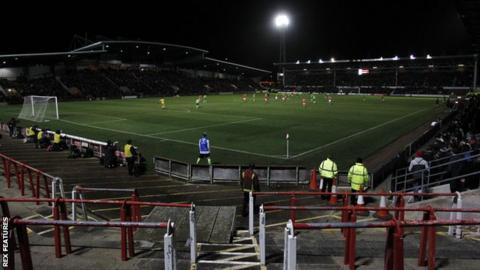 North Wales Police has confirmed it is investigating "alleged racist and other unacceptable behaviour" it is claimed took place during Wrexham's National League match with Dover.
Wrexham have begun an investigation into two alleged incidents of "discriminatory behaviour".
The club have also apologised "to the players involved and officials, staff and supporters of Dover Athletic".
"The club will work alongside and fully support the police," Wrexham confirmed.
"We have received reports of alleged racist and other unacceptable behaviour at the Wrexham v Dover Athletic football match on Saturday," Supt Jane Banham of North Wales Police said.
"Officers are working closely with Wrexham AFC to establish the facts. Anyone with information which could assist our enquiries should contact https://www.north-wales.police.uk/contact/live-chat-support."
Wrexham have threatened severe sanctions against any fans found to have broken the law.
"Should any criminal prosecutions be necessary these individuals will also be subject to severe sanctions from the club, including bans to all events held at the Racecourse," the club said.
"Two incidents of alleged discriminatory behaviour were reported to the club, police and match officials and corroborated by witnesses who include players and staff, from both teams."
Wrexham said they were investigating an incident close to the dugouts shortly after Dover scored their late winner, plus an earlier incident that was reported after the match and involved the Dover substitutes warming up at the side of the pitch.
Two Dover players - both of whom started the game as substitutes - appeared to discuss the incident on Twitter after the game.
Ricky Modeste - who was seen exchanging words with fans after the final whistle - wrote: "Another great performance against a good Wrexham side, shame about the incident at the end….".
Anthony Jeffrey, who scored Dover's 87th minute winner in the 1-0 win, replied saying: "Crazy that fans still shout racist abuse at players…".
Dover Athletic told BBC Wales that they were supporting the Police in their investigation and would not be making further comment until that process is concluded.