Wrexham 0-1 Leyton Orient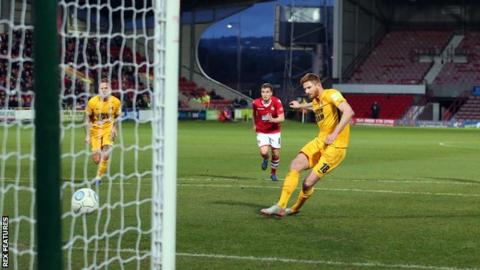 Ten man Leyton Orient held on to knock hosts Wrexham out of the FA Trophy and advance to the third round.
Wrexham nearly took the lead when Luke Summerfield's long-range strike came off the post, but it needed a good save by home goalkeeper Christian Dibble to deny James Alabi on half-time.
The visitors took the lead through Matt Harrold's penalty after James Brophy was brought down by Mark Carrington.
But Orient were hanging on after Myles Judd was booked for the second time.
Wrexham assistant manager Mike Newell told BBC Radio Wales: "There's never a relief when you get knocked out of a competition, it hurts when you get beat whatever you're doing.
"It might be a blessing in disguise, I don't know, it doesn't feel like that right at the moment because we've just lost to Orient.
"We've got to get back to basics because the basics are what have got Wrexham to where they are at the moment, which is in a really good position."