Derby training ground 'spy': Leeds boss Marcelo Bielsa takes responsibility
Last updated on .From the section Derby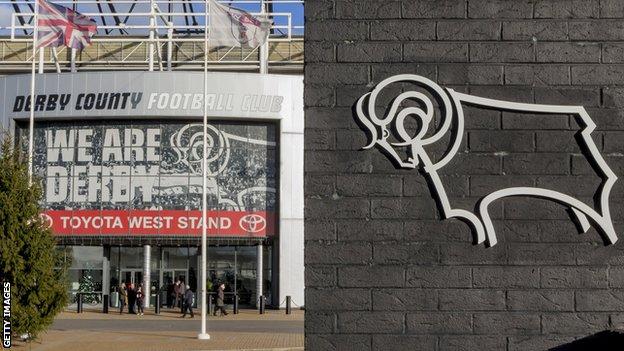 Leeds United manager Marcelo Bielsa says he takes responsibility for a member of staff seen acting suspiciously outside Derby County's training ground on Thursday.
The Championship leaders host sixth-placed Derby on Friday night.
Before kick-off at Elland Road, Bielsa said: "It's true there was someone from Leeds United. The responsibility for this lies with me. I'm responsible."
The Football Association says it is investigating the incident.
Derbyshire Police said officers were called to Derby's training ground on Thursday morning and a man was spoken to at the perimeter fence, but no arrests were made.
The statement added: "Officers conducted routine checks which were all above board. Despite media reports, no damage to the fence was found, and the man was stopped outside the grounds."
Bielsa added in an interview with Sky Sports: "Yesterday I talked to Frank Lampard and he told me I didn't respect the fair play rules.
"I have a different point of view but the important thing is what Frank Lampard and Derby County think. I didn't ask permission from Leeds United to do it so it's my responsibility.
"Without trying to find a justification, I've been using this kind of practice since the qualifications for the World Cup with Argentina."
Rams boss Lampard also spoke before the game to give his view on the situation.
"At least, on a sportsman's level, it's bad in my opinion," he told Sky Sports.
"If we're going to start talking about 'culturally, I did it somewhere else' - that doesn't work for me.
"If I'm lucky enough to do well and travel to another country I'll find out what the etiquette is in that country and abide by that.
"It's disrupted our build-up to this game. People are going to say I'm trying to make an excuse - but I'm going to speak like this after the game win, lose or draw."
An English Football League spokesman told the BBC: "It is, of course, up to Derby County as to how they progress this matter but as of yet we have received no complaint or contact from the club."
'It's not a big issue'
Speaking at his news conference on Friday, Tottenham manager Mauricio Pochettino insisted the incident was not "a big deal".
The 46-year-old played under Leeds boss Bielsa at Newell's Old Boys, Espanyol and for Argentina and said the practice of watching opponents train has regularly been used in his homeland.
"I played for him I learned a lot from him - the good and not so good," Pochettino said.
"There is nothing wrong to try and find information and know a bit more about what the opponents are doing. That happened 30 years ago in Argentina. Not only Marcelo, all the managers were like this.
"Here maybe it is a little bit weird but in Argentina it happened. It is not a big issue or a big deal."