Charlton Women fined £500 over failure to provide oxygen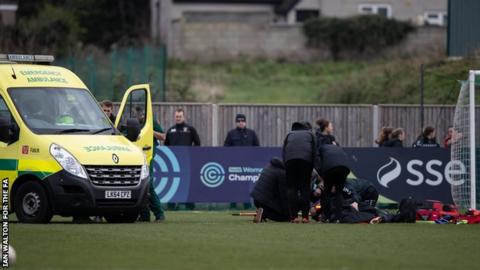 Charlton have been fined £500 for failing to provide oxygen during their abandoned Women's Championship match with Manchester United on 13 January.
League rules say clubs must have oxygen on site but when Charlton's Charlotte Kerr, 24, was seriously injured, medics had to use United's supply.
After an hour delay, the referee called off the game as there was insufficient oxygen left to cover it safely.
Charlton are considering whether to appeal against the verdict.
The club confirmed to BBC Sport that a Football Association delegate visited the Addicks' stadium for their home fixture against London Bees on 4 November and inspected and signed off club medical equipment.
BBC Sport has also seen medical documents sent to clubs at the start of the season, which are inconsistent with those from which they have been charged.
The FA said Charlton have been found guilty of breaching competition rule 14.5, which states: "Clubs shall ensure emergency sports first aid equipment is present and in full working order at each competition match.
"Such equipment to include as a minimum a spinal board, cervical collar, fracture splints, crutches, stretchers, oxygen and a defibrillator."
But the club said in a statement: "Charlton Athletic Women have reviewed all information received from the FA, including medical regulations and from a subsequent inspection visit that covered medical equipment provision in late 2018.
"Our policy is always to comply with the requirements placed upon us and we would never make a conscious decision to fail to hold what is deemed as essential medical equipment.
"We remain in talks with the FA, from whom we are currently awaiting the formal feedback regarding circumstances surrounding the abandoned fixture against Manchester United. We will make a decision whether to appeal this once we have had an opportunity to consider the FA's feedback."
Kerr injured her ribs and sternum following a collision early in the game, with the score 1-0 to United at the time.
The match at The Oakwood was stopped for Kerr to receive medical treatment from club doctors, but the defender was later taken to hospital by ambulance, which took about half an hour to arrive.
The former Watford player was released from hospital the next day.
After the incident, Charlton said medical staff "ensured the players were in no danger at any point".
It added: "[Our] team club doctor, medical teams from Charlton, Manchester United Women and the ambulance service were able to prevent a serious incident from becoming a lot worse and the club would like to thank everyone who assisted."
The FA says the game will be played at a later date, but it is understood the game would start goalless.