Asian Cup winners Qatar impress three years out from hosting 2022 World Cup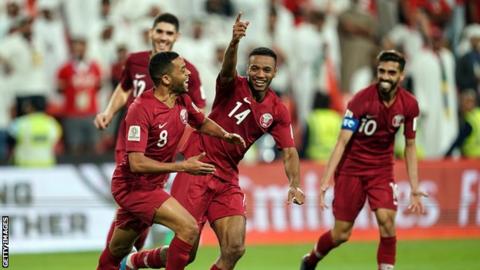 Qatar thoroughly deserved to win the Asian Cup.
With their victory and the manner of their performances, they have sat the world down and told it face-to-face that they will be more than mere hosts of the World Cup in 2022.
They were the only consistent team in the competition, scoring more and conceding fewer than everyone else.
They already had the Asian player of the year, in marauding left-back Abdelkarim Hassan.
To him they've added the Golden Boot-winner in Almoez Ali, and Akram Afif, who was the leading assist-provider.
Due to the blockade of Qatar by the United Arab Emirates, Saudi Arabia, Bahrain and Egypt, it's almost impossible for Qataris to enter the Emirates.
That has meant that the Maroons, as they're known, have been the ultimate away team.
When they played North Korea in a group match, the official attendance was 452.
When they played Saudi Arabia, their anthem was booed.
And when they played the UAE in a semi-final in which the hosts were humbled 4-0, shoes were thrown at them.
Russia reached the quarter finals of their World Cup after years of indifferent results. If Qatar stay on the same track, imagine what they could do.
The next turf for them to stomp all over will be in South America, when they take on Paraguay, Colombia and Argentina as an invited guest to the Copa America.
The Asian Cup has been a tournament marked by mediocrity, with swathes of forgettable football leaving behind nothing more than blank patches of memory.
But a tournament in a country the size of the United Arab Emirates has also given a glimpse of what the 2022 World Cup might be like for football-hungry fans in an equally small nation.
The proximity of stadia meant that when the knockout stage began, fans and journalists could go to more than one match in a day.
As the last 16 began, I went to Jordan-Vietnam in early afternoon in Dubai and, despite extra-time and penalties, made it to Iran-Oman an hour and a half away in Abu Dhabi in the evening.
The distances in Qatar will be even shorter, which should make it easy for their coach Felix Sanchez to visit his winner's medal as often as he likes.
He says he'll put it in his office so he can do just that.
Sanchez now joins fellow Spaniards Luis Aragones and Vicente del Bosque as a continental champion.
Qatar's success in the UAE has come against adversity, but it is also the result of eye-watering investment.
Two thirds of Qatar's squad grew up together as scholars in the world-class Aspire academy that has also produced the reigning high jump world champion Mutaz Essa Barshim.
Sanchez says that victory over Japan is a vindication of Qatar's extraordinary investment in football.
"A lot of things have been done the right way and this group of players have been going in the right direction with the right mentality," he said. "We are feeling very proud about that."
The pre-final appeal by the UAE to have Qatar thrown out of the tournament for fielding ineligible players is a reminder that the Qataris' past practice of liberal naturalisation has only recently ended.
For many years, Qatar's national team was known sneeringly and rather hypocritically by its Arab neighbours as the 'United Nations of Qatar'.
In those days, Qatar would bring a Latin American feel to Asian football, but only via the teamsheet.
But in the current squad, the overwhelming majority of players were born in the country.
The Qatar Football Association decided that using swiftly-naturalised players was nothing more than a quick fix.
What it needed was a generation of players with a native attachment to the country, who will be around for years to come.
So stand up Akram Afif, Abdelkarim Hassan and the rest.