Scottish FA could consider having foreign referees in Premiership

By Chris McLaughlin
BBC Scotland
Last updated on .From the section Scottish Premiership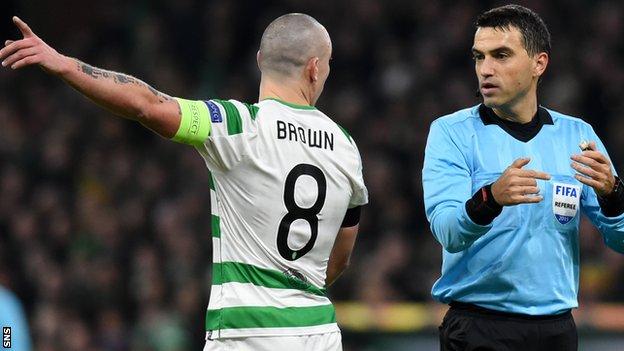 Fundamental changes to refereeing and disciplinary issues - potentially including the use of overseas officials - will be looked at by the Scottish FA.
It follows a heated meeting between the governing body, the compliance officer and all 12 SPFL Premiership clubs.
BBC Scotland understands an agreement was reached on Monday for an SPFL working party to look at adaptations and report back with proposals.
These alterations could be introduced as early as next season.
A number of clubs expressed concern about the standards of refereeing and are in favour of increasing the pool of grade one referees by calling on officials from England, Wales or even further afield.
The proposal was not explicitly discussed at the meeting, but some clubs are talking about it.
In 2010, referees from Israel, Luxembourg and Malta officiated in Scottish top-flight matches after domestic officials went on strike after criticism of their performances.
There was also much debate around the issue of compliance, with most clubs in agreement that the current system needs to change.
Rangers managing director Stewart Robertson said on Tuesday that Scottish football is "re-refereeing" games under the present disciplinary system.
"That is placing intolerable pressure on the referees, which places pressure on the compliance system and disciplinary system," he added.
Clare Whyte took over as compliance officer from Tony McGlennan in August to become the third person to hold the post.
The duty of the role is to oversee the judicial and disciplinary process at the Scottish FA.
'I'd be surprised if this happens' - analysis
BBC Scotland's sports news correspondent Chris McLaughlin
Criticism of referees in Scotland is nothing new. Managers are rarely happy with referees' performances but where this is different now is that the clubs are involved.
A number of concerns were put on the table at Monday's meeting and one of the proposals is that if we don't have enough grade one officials, should we be looking to other associations? That is just a proposal at this stage. Now a working group will look at the details and see if there's any merit in it.
It kind of feels like 2010 again, with a growing feeling of discontent. The difference this time is that the clubs are saying 'we get there is an issue and we're trying to help you by increasing the pool of referees so you're not under the spotlight as much' because you can have grade one officials refereeing teams eight or nine times in a season at the moment.
The referees won't like this and I'd be surprised if any of them buy into this. There are so many issues to be ironed out and I'd be very surprised if this happens. But at least the debate is happening at the highest level and the governing body and clubs are sitting down and actually considering the issue.