Liverpool, Tottenham and Manchester City Premier League games moved
Last updated on .From the section Premier League223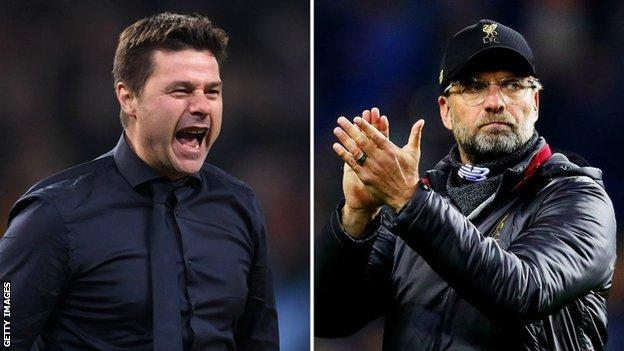 The Premier League has brought forward Liverpool and Tottenham's games before the second legs of their Champions League semi-finals.
The Reds were due to visit Newcastle on Sunday, 5 May, with Spurs travelling to Bournemouth the day after.
Both games will now be played on Saturday, 4 May, while Manchester City's game against Leicester that day has been moved to Monday, 6 May.
Tottenham's game will kick off at 12:30 BST and Liverpool's at 19:45.
Spurs' match at Bournemouth was due to be the televised game on the Monday but City's final home fixture of the season will now be broadcast in that slot instead.
It means fans have been given two weeks' notice of the change - the Premier League normally aims to give six weeks' notice of fixture changes.
Man City Fan TV presenter 'Ray' told BBC Sport: "We've had lots of fans contacting us saying they've already paid for train tickets, flights and hotels which can't be refunded.
"It's great that the Premier League is doing something to help and support English teams in Europe - it's long overdue.
"But us fans are being ignored time and again."
Chelsea and Arsenal's matches have also been moved back a day after both progressed to the Europa League semi-finals, with the two legs to be played on 2 and 9 May.
The Blues will now host Watford on Sunday, 5 May (14:00 BST), followed by the Gunners' home game against Brighton (16:30).
Uefa confirmed the dates for the Champions League semi-finals on Thursday.
Tottenham host Dutch side Ajax in the first leg on Tuesday, 30 April, with the second leg in Amsterdam on Wednesday, 8 May.
Liverpool travel to Barcelona for their first leg on Wednesday, 1 May before welcoming the Spanish side to Anfield on Tuesday, 7 May.