David Cotterill: Former Wales forward reveals alcohol battle
Last updated on .From the section Wales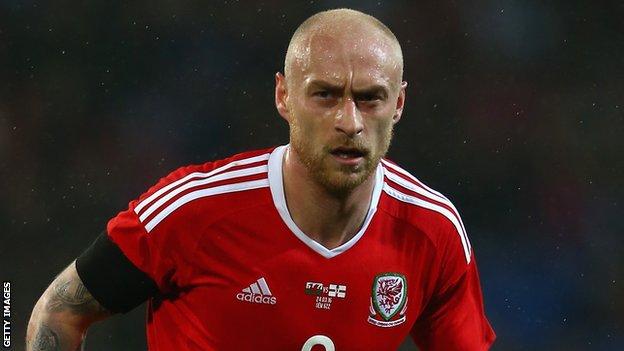 Former Wales international David Cotterill has revealed he has been battling alcohol problems.
The ex-forward, 31, has now admitted to feeling "powerless over alcohol".
"I have been staying at (the) Sporting Chance Clinic battling alcohol dependency which has arisen from years of mental health issues," he wrote on Instagram.
"The staff have been incredible since picking up the phone to them - all very inspiring and unbelievable at what they do so thank you for everything."
Cardiff-born Cotterill won 24 caps for Wales. His clubs included Bristol City, Wigan Athletic, Sheffield United, Swansea City, Portsmouth and Birmingham City.
He told BBC Sport Wales he had suffered with mental health problems since he was a teenager.
Alcohol, he said, was a means for him to cope with the pressures of professional football.
"Footballers are on a rollercoaster ride - one minute you're putting one in the top corner then you're missing a penalty," Cotterill added.
"There are so many emotions going on and I found thought drinking was helping my situation but it made things a lot worse.
"I was drinking three or four bottles of red wine then going to training the next day.
"I was heavily drinking at one stage. But it's not really about me drinking every day, it's what I was doing when I had alcohol in my system.
"I was a complete and utter nightmare and I need to seek that advice and help."
Cotterill realised he needed to make "massive changes" and decided to go into rehab for the sake of his family.
He missed his daughter's first birthday whilst at the Sporting Chance Clinic.
"If anyone reading this is struggling, please think about why you want to get better," he added.
"For me the motivation is to be the best father and husband I can possibly be and it really helped me get through this time.
"I missed my daughter's first birthday whilst being in rehab because in my head and my heart I knew missing this birthday would make sure I wouldn't miss any future birthdays. It was the most difficult thing I've done.
"If you can find that one thing that drives you on, keep it at the forefront of your mind and carry on fighting. Things will get better. You're not alone."