Motherwell: The story behind David Turnbull's meteoric rise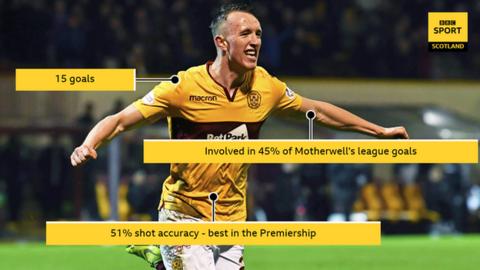 Fifteen goals, a £3m price tag and a Scottish young player of the year award. No matter how you look at it, David Turnbull's rise to prominence has been breathtaking.
The 19-year-old only made his Motherwell debut a year ago but in his first full campaign has soared into the Scottish footballing stratosphere.
The Scotland Under-21 player is poised for a move to Celtic after Motherwell accepted a £3m plus add ons bid for their top asset, who cleaned up with five awards at the club's player of the year awards as well as being recognised by the Scottish Football Writers' Association.
But what makes the Fir Park academy graduate so impressive? BBC Scotland takes a peek behind the numbers to find out.
Goals, goals and more goals
Over the course of his first full season midfielder Turnbull picked up 15 goals in 31 games - a feat which left him level with Celtic forward Odsonne Edouard, two behind Aberdeen target man Sam Cosgrove and just three behind Rangers talisman Alfredo Morelos in the Scottish Premiership scoring charts.
Yet Turnbull's goals are arguably more important. When we break down the tally of the top 10 scorers in the division in terms of the contribution those goals have made to their side's total, we find that Turnbull's goals have made up no less than 33% of Motherwell's goals over the course of the league campaign.
The closest contender to such a feat is Cosgrove at Aberdeen, who amassed 30% of his team's goals, followed by Steven Naismith bagging around a quarter of Hearts' goals in the league.
Hitting the target
Of course, Turnbull is a great passer and dribbler of the ball, but it is the young player's ability and tendency to shoot - especially from distance - that has set him apart this season.
Turnbull may only be 10th in the division for shots this season - not a bad feat for a midfielder - but it is his shooting accuracy that makes him thrive.
On average, the 19-year-old hits the target with 51% of his shots. Not only is that more impressive than more likely candidates like Edouard or Morelos, but it is also the highest in the entire Premiership for last season.
When we couple that with the sheer amount of shots the young player is hitting each game, it quickly explains why he ended up third in the league table when it came to goals from outside the box. And, naturally, why he's so good at finding the net regularly.
The new Michael Ballack?
Michael Stewart explains why he thinks Turnbull is the best young prospect in Scottish football.
This young lad is a top player. He's destined for the top as long as he keeps working hard. He's constantly looking for little one-twos and is always looking for the shot. When he's in the middle of the park he's always looking over his shoulders to see what's around him. He's always looking to link up in the final third and taking defenders out of the game with his passes.
He's got such a long way to go before he's a Michael Ballack, but I'm talking about the stature of him. Two good feet, links up well in the final third and 12 goals. He's not even played all season. I think he has a number of assists as well.
He is the best young player that I've seen in a long time. If he continues to perform at that level then there will be a number of potential suitors looking at him. Because he is the full package for me as a midfielder. As long as he keeps his feet on the ground and continues to work hard then he's got a bright future ahead of him.
I don't say this lightly. Forget just best young player in Scotland. He has got the potential to go right to the top of this game. You see young David Bates going out to Hamburg. David Turnbull could go and play at the top level.