Port Vale: Norman Smurthwaite sells League Two club to Carol & Kevin Shanahan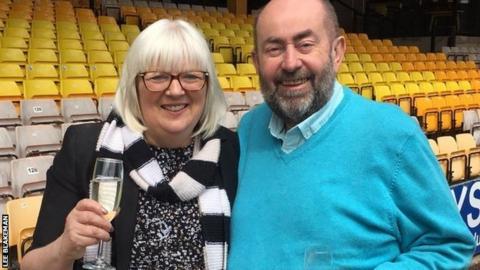 Port Vale owner Norman Smurthwaite has sold the League Two club to local IT firm owners Carol and Kevin Shanahan.
The Shanahans, both long-standing Vale supporters, who own Potteries-based firm Synectics Solutions, have bought the club in its entirety.
"We're not going to gamble our future by spending ridiculous amounts," Carol Shanahan told BBC Radio Stoke.
"But the first action we took was to buy Vale Park too. The freehold and the land around is now owned by the club."
She added: "The income streams from anything at Vale Park will now go straight into the club, which is a big change.
"We knew we had to come in and almost come and liberate the club. The club has come back to the fans.
"If ever we had any doubt, the Notts County game showed us not to have doubts. The atmosphere was different and it has been every match since."
Kevin Shanahan added: "The key thing is that were able to put a budget together which has a proper amount for players. And we know we can compete there."
John Askey to remain as manager?
The Shanahans also hinted that one of their first jobs will be to secure manager John Askey's future on a more permanent basis.
Vale were in serious danger of relegation from the English Football League when the former Macclesfield and Shrewsbury manager, son of former Vale player Colin Askey, took charge on 4 February.
But he led the side eight points clear of relegation to finish 20th in League Two. And, although the arrangement was initially only until the end of the season, it would be a major surprise if he was not now offered an extended contract.
"He's done a great job," said Carol Shanahan. "Speaking as a fan, it's been far more entertaining. A joy to watch.
"He came in just as the transfer window had shut, but he fulfilled his task and gave the fans a lot of hope."
"The manager's a key appointment," chief executive Colin Garlick told BBC Radio Stoke. "I've said to Carol and Kevin that they won't make a more important decision than that."
Shanahans have 'put their money where their mouth is'
Midlands businessman Smurthwaite, who took Vale out of administration in 2012, first put the club up for sale in 2016.
Since then, the Shanahans have made several bids to buy both the club and their Vale Park ground - which was owned by Smurthwaite through a separate company.
Talks have stalled, which led to Smurthwaite's threat to put the club in administration if a buyer was not found by 5 May.
"There's been so much uncertainty," added Garlick. "But now we have a clear vision. It's a new era for the club.
"We're behind the eight ball with regard to season ticket sales, which have been quite poor and that has to be a concern.
"But there's a lot of relief. People feel that the club does have a future. Carol and Kevin have put their money where their mouth is.
"They've gone out on a limb to secure the ownership of the club. But we also realise that we now have a lot of hard work to do."
Kevin Shanahan added: "It's very difficult to put into words. It has been a humbling experience. Personally speaking, I've been tickled beyond imagination. I feel hugely uplifted."
Carol and Kevin Shanahan were talking to BBC Radio Stoke's Lee Blakeman