Europa League final: Arsenal 'hugely concerned' Henrikh Mkhitaryan could miss final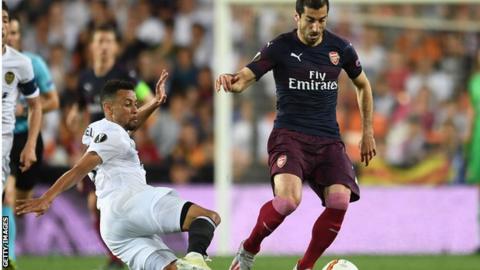 Arsenal are "hugely concerned" Henrikh Mkhitaryan may not play in the Europa League final because of political tensions between Azerbaijan and Armenia.
The final against Chelsea will be held in Azerbaijan capital Baku on 29 May.
Armenia captain Mkhitaryan has missed games in Azerbaijan for Arsenal and former club Dortmund in recent years.
"The safety and security of all of our players is of paramount importance," an Arsenal spokesperson said.
"We are seeking guarantees from Uefa that it will be safe for Henrikh Mkhitaryan to travel to Baku for the Europa League final, which both Arsenal and Micki require for him to be included within our squad.
"Acceptable guarantees have not been received yet, and we hope that Uefa will be able to supply these promptly.
"We are of course hugely concerned that the location of the final could lead to Micki not being able to play in a European final."
Uefa's standard procedure is to send letters of support to associations, clubs or embassies to obtain visas for footballers so that they will be able to play in Uefa matches.
Uefa says the issue is currently a "work in progress".
There are no diplomatic relations between Armenia and Azerbaijan because of a longstanding conflict over the disputed Nagorno-Karabakh region. Azerbaijan usually does not allow foreign nationals of Armenian descent to enter the country.
While playing for Borussia Dortmund in 2015, Mkhitaryan, 30, did not travel for a Europa League tie against Azerbaijan Premier League side Gabala because of security concerns.
And he also missed Arsenal's 3-0 Europa League win at FK Qarabag in October, with manager Unai Emery saying "he cannot travel here", despite Uefa offering their support over a visa application.
Qarabag head coach Gurban Gurbanov claimed Arsenal had "tried to save" Mkhitaryan from the "pressure" of playing in Azerbaijan.
"If Henrikh Mkhitaryan would come to Azerbaijan it is not the first time - a lot of Armenian sportsmen came to Azerbaijan but it is the choice of Arsenal that they didn't send him," he said.
"Arsenal may be afraid that in front of 60,000 Azerbaijani fans, Mkhitaryan has some pressure and that is why they didn't send Mkhitaryan."