Europa League final: Arsenal and Chelsea given just 6,000 tickets each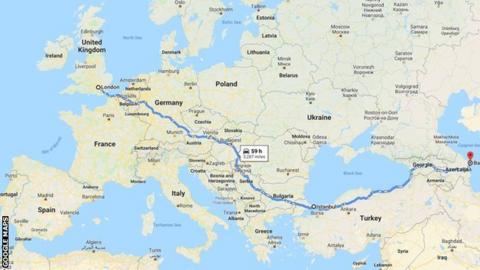 Arsenal and Chelsea have each been allocated just 6,000 tickets for the Europa League final at the 68,700 Olympic Stadium in Baku.
Arsenal said the allocation is "disappointing" and presents the club with "extreme difficulties".
The final takes place on 29 May.
"There will be thousands of fans who have supported the club for years and been part of our Europa League journey this season, who will be unable to attend," Arsenal said.
The club said tickets will be priced between £26 and £121. The majority of tickets will cost £43.
Liverpool and Tottenham have each been allocated 16,613 tickets for the Champions League final in the 68,000-capacity Wanda Metropolitano stadium in Madrid.
Analysis: The environmental impact
To help the discussion of why two London clubs need to go almost 2,500 miles to Azerbaijan to play against each other, when they are both less than 15km from Wembley, the Reality Check team has been looking into the carbon footprint of those journeys.
Assuming 12,000 fans use economy class return flights, we've tried one carbon calculator that says it's 5,595 tonnes of CO2, one that says it's 8,280 tonnes and one that says it's 13,094 tonnes - 15,600 if you include radiative forcing, which is the extra emissions from flying at high altitude.
If you look at the highest estimate (because you know some people will travel without tickets to the game, not everyone will fly economy class, and you also have to transport the teams and club staff), according to the US Environmental Protection Agency that's the amount of emissions you'd get from the energy needs of an average home for 1,868 years or running 3,300 cars for a year. To save that amount you'd have to switch 600,000 incandescent light bulbs to LEDs.