Daniel Sturridge: Former Liverpool striker banned for breaching betting rules
Last updated on .From the section Football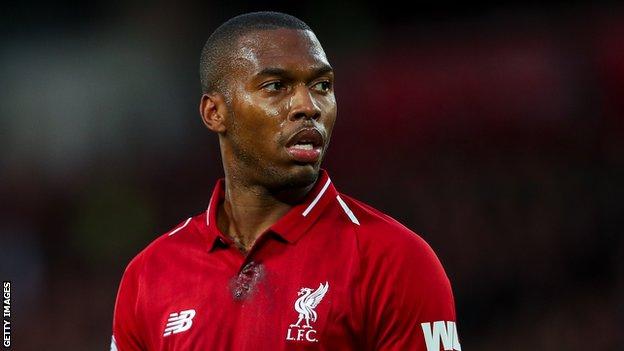 Former Liverpool striker Daniel Sturridge has been banned from playing football for two weeks and fined £75,000 after being found guilty of breaching betting rules.
Sturridge, 29, was given a six-week ban, four of which were suspended, and is free to play again on 31 July.
The Football Association says it will appeal against the dismissal by an independent regulatory commission of various charges alleging he passed on inside information over a potential transfer in January 2018.
In its submissions to the commission, the FA argued the player had used "cynical determination" to help betting by others and any sanction shorter than a six-month suspension "would wholly fail to reflect the gravity of the case".
Liverpool announced in June that Sturridge - who scored eight times in 26 appearances for England - would be leaving the club this summer at the end of his contract.
Reacting to the commission's findings, he said the past 15 months had been "very tough".
"I am pleased that nine of the 11 charges were dismissed and that the panel found me to be an honest and credible witness, and that my actions on one particularly difficult day were out of character," he said.
"The case was heard over seven days by a distinguished panel, which resulted in a lengthy and carefully considered decision, and followed an extensive investigation by the FA. It is therefore extremely disappointing to hear that the FA will be appealing this decision. I will continue to defend the case and the appeal.
"I am training hard and fully focused on the upcoming football season."
'Makes a mockery of the FA rules'
The commission found two of 11 charges against him were proved - that the former Manchester City and Chelsea forward had instructed his brother Leon to bet on a possible move to Spanish side Sevilla, and that he had given him inside information.
In a statement, the FA said it "respectfully disagrees with the regulatory commission's findings and will be appealing against the charges which were dismissed and the sanction which was imposed".
Former sports minister Tracey Crouch has said the ruling "makes a mockery of the FA rules".
In 2017, former Burnley midfielder Joey Barton was suspended from football for 18 months - later reduced to 13 on appeal - after he broke FA rules by placing 1,260 bets on matches in 2016.
Some of the charges against Sturridge which were dismissed alleged he had passed on inside information about possible moves to Inter Milan and West Brom.
In January 2018, he joined West Brom on loan until the end of the season.
When he was charged with misconduct by the FA in November 2018, a Liverpool spokesman said Sturridge had cooperated fully "throughout this process" and "stated categorically that he has never gambled on football".
Earlier this month, the striker made headlines when offering a £30,000 reward for the return of his missing dog Lucci.
Sturridge said he was "absolutely delighted" after the return of the Pomeranian, which disappeared during a break-in at his house in Los Angeles.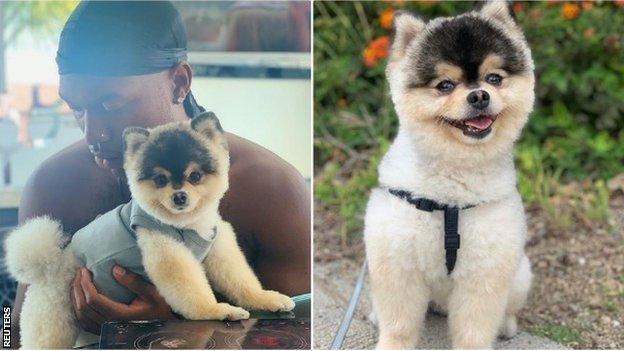 What was the background?
Sturridge was out of the Liverpool first team, had problems with his house in London and issues with a sponsor, the commission's report says.
He was "feeling very low", looking for a move and was in contact with his brother Leon who had been asking about a potential switch to Spanish side Sevilla, with Italian club Inter Milan also reportedly interested.
Among 11 witnesses for Sturridge was former Liverpool club psychologist Dr Steve Peters - who has also worked with British Cycling and snooker player Ronnie O'Sullivan.
Peters saw Sturridge around 25 times between 2013 and 2015 and described him as "a religious, highly principled and straightforward person".
What is the FA's case?
The FA submitted this was a "family affair" with Sturridge providing inside information; his brother Leon using contacts in the betting industry to find out the best odds and his dad Michael liaising with cousin Anthon Walters to place bets.

Despite the inside information claims, nearly £3,000 was lost on the bets.

A total of £13,755.82 was wagered by 28 individuals - including the neighbours of Sturridge's parents - which returned £10,762.56.

An additional £20,560 in proposed bets were rejected by bookmakers. If they had been accepted and were successful, they would have returned a further £317,006.

Sturridge's uncle and agent Dean Sturridge was reported to have messaged the player on 12 January 2018, saying "stay out of squad... this Inter Milan (interest) is real". Daniel responded "Cool with me". Liverpool beat Manchester City 4-3 two days later without Sturridge - who was reportedly injured - in the squad.
What is Sturridge's case?
Strurridge said the FA's case was "overblown and misconceived" and that he gave an innocent explanation for the text messages.

Submissions on his behalf said he did not have the the type of personality that is drawn to adrenaline or the risk of wrongdoing, and had no real interest in gambling.

It was also noted that he was desperate to restart his career, and get into the England team for the 2018 World Cup; and he had no real interest in gambling.

His case is that the FA "added two and two together and made 40".
Any other business?
The report also gives an interesting insight into some of the behind-the-scenes movements during the transfer window.
Sturridge was being messaged by both Newcastle boss Rafael Benitez and then West Brom manager Alan Pardew, and revealed his dilemma.
At 11.02am on 29 January, he texted his brother to say he was "still in deep thought", that Newcastle were a better team "historically" but West Brom's formation might suit him better.
The player messaged Pardew 45 minutes later to say he had agreed a move to the Baggies and he signed later that day.