Lee Johnson: Bristol City head coach targets up to five new signings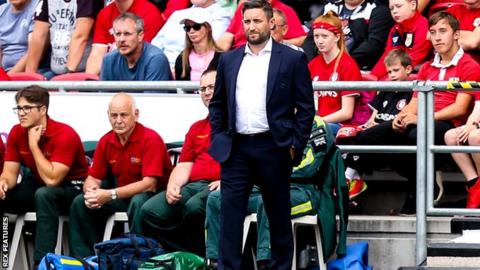 Bristol City boss Lee Johnson is hoping they can sign up to five new players before Thursday's transfer deadline.
The Robins are close to bringing in Monaco midfielder Han-Noah Massengo for a reported fee of around £7.3m.
The 18-year-old, who made two Champions League appearances last term, watched City's 3-1 loss to Leeds on Sunday.
After that opening defeat, Johnson said his side needed strengthening, telling BBC Radio Bristol: "We need a bit more quality, which hopefully we'll get in."
The head coach added: "In an ideal world we would do a centre-half, a right-back, a holding central midfielder, an attacking central midfielder - which you know, Massengo - and a centre forward.
"It's not going to be easy to get five. If we get four I'll be delighted. If we get three, I'll be happy. Two won't be enough."
On the prospect of adding Massengo, Johnson added: "If we get it through, we've struck an unbelievable deal with an unbelievable talent."
Speaking earlier on Sunday about the French youth international, the Championship club's owner Steve Lansdown told BBC Radio Bristol: "We're talking to him.
"We have to do the medical and get all the documents signed, but we're well on our way. We're hopeful that one is going to go through. It's not gone through yet but if we do get it, that's a coup."
Johnson's side finished eighth last season, four points off the play-off places, but began their 2019-20 campaign by being well-beaten by promotion favourites Leeds.
"It's a good standard for the lads to feel, because if [Leeds] keep that XI fit, they are top, top side for the Championship," Johnson added.
"[We didn't have] enough quality in forward areas - we've got to go back to the drawing board with that really.
"We'll try very, very hard to sign a striker. Obviously everybody sees that's somewhere we need to upgrade, but we know it's expensive nowadays. It's out of my hands."
The 38-year-old also revealed that players are likely to leave Ashton Gate by Thursday, adding: "There probably needs to be [outgoings] yes, as you don't want too big a squad where players feel they have got no chance.
"All that does is kill morale a little bit as you have too many guys training without a carrot at the end of the week.
"In my opinion, a couple need to go out on loan. A couple need to go out permanent, but again, pushing that out in to the hands of the powers that be."