Hugo Lloris: Tottenham goalkeeper Hugo Lloris carried off with dislocated elbow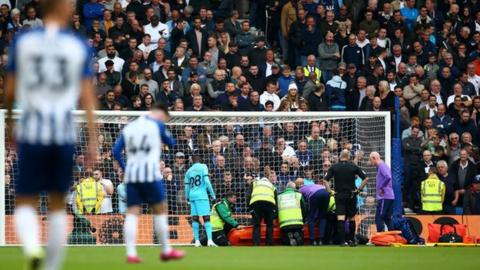 Tottenham goalkeeper Hugo Lloris was taken to hospital after suffering a dislocated elbow early in the 3-0 defeat at Brighton on Saturday.
The France international fell awkwardly after failing to hold a Pascal Gross cross in the third minute, with Neal Maupay nodding in the loose ball.
Lloris received oxygen before he was taken off on a stretcher and replaced by Paulo Gazzaniga.
"It's not good news from the hospital," said manager Mauricio Pochettino.
In a statement, Tottenham added: "Assessment will continue this coming week to ascertain the full extent of the injury and the length of time he will require to undergo rehabilitation."
Lloris, who has made eight appearances for Tottenham this season, will now be ruled out of France's upcoming Euro 2020 qualifiers against Iceland and Turkey.
Defeat was a huge blow for Spurs as they looked to recover from a 7-2 defeat at home by Bayern Munich in the Champions League on Tuesday.