Bulgaria v England: Euro 2020 qualifier halted twice due to racist behaviour from fans
Last updated on .From the section England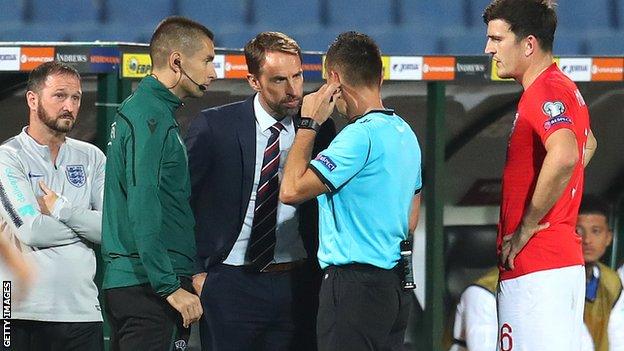 England's Euro 2020 qualifier in Bulgaria was halted twice as fans were warned about racist behaviour including Nazi salutes and monkey chanting.
The first pause came in the 28th minute with England leading 2-0.
A stadium announcement then condemned the abuse before stating the match would be abandoned if it continued.
However, the game was stopped again in the 43rd minute before restarting after discussions between the referee and England manager Gareth Southgate.
England went on to win 6-0 in Sofia to strengthen their place at the top of Group A.
'One of the most appalling nights I've seen in football'
Football Association chairman Greg Clarke was at the game and witnessed the abuse first hand, saying it had left a number of the England players and staff visibly upset.
"I heard examples of appalling racist chanting," he said.
"I was looking at a group of people, all in black - about 50 of them - who were making what looked like political fascist gestures. I couldn't be sure, it was 100 metres away but it looked appalling.
"I've spoken to one or two of the players and I've also spoken to one or two of the backroom staff, because we don't just have a multiracial team, we have a multiracial backroom staff.
"They were visibly emotionally upset, and I spoke to Gareth after the game too and I offered him our full support."
Clarke says he expects European football's governing body Uefa to conduct a thorough review of the incident.
"Uefa, who I've spoken to throughout the game, at half-time and at the end of the game, will be carrying out a thorough investigation to make sure this appalling scene of terrible racism is treated appropriately," he said.
In a statement, the FA confirmed England players were subjected to "abhorrent racist chanting" and that it was "unacceptable at any level of the game".
England defender Tyrone Mings, who was making his international debut, said the players had decided as a group at half-time to continue the game.
"Just before the end of the first half the appropriate next step was to return to the changing room," he told BBC Radio 5 Live.
"We made a common-sense decision to play the remaining few minutes and decided at half-time. Everybody made the decision. The manager, the team, the supporting staff. We spoke about it at half-time and we dealt with it and escalated it in the right way.
"I am proud of how we dealt with it and took the appropriate steps."
The Vasil Levski Stadium was subject to a partial closure for this match after Bulgaria were sanctioned for racist behaviour of fans during qualifiers against Kosovo and the Czech Republic in June.
The build-up to the game had been dominated by concerns of potential incidents of racism, with England striker Tammy Abraham saying the players would be prepared to walk off the pitch if they were targeted.
Southgate held a meeting with his players over the weekend to underline the Uefa three-step protocol in dealing with racist incidents - but the subject provoked an angry response from the Bulgarian football authorities.
Bulgaria coach Krasimir Balakov had accused England of having a bigger racism problem than his own country.
What exactly happened during the game?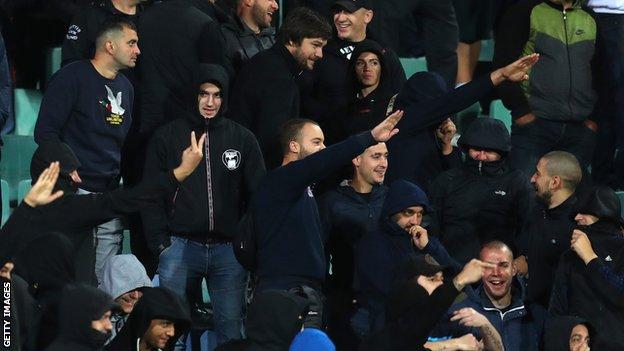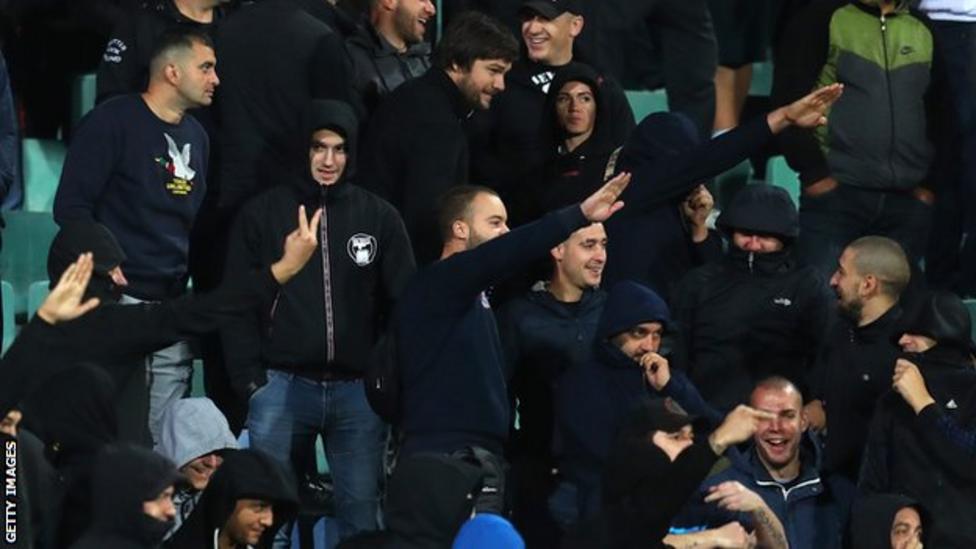 After making a pass, England defender Mings glanced over his shoulder and could be heard calling towards the touchline: "Did you hear that?"
Within minutes the game was stopped.
Striker Harry Kane was in conversation with referee Ivan Bebek on the halfway line while a stadium announcement was made to condemn racist abuse and warn fans that the game could be abandoned if it continued. At the same time, England manager Southgate was talking to a number of his players.
The game resumed but was stopped again just before half-time. Southgate and several England players were in discussion with match officials before the game was restarted for a second time.
A group of Bulgaria supporters wearing black hooded tops - some wearing bandanas covering their faces - started to leave the stadium after the game was halted for a second time. BBC Radio 5 Live reported that some made racist gestures while heading towards the exits.
After six minutes of time added at the end of the first half because of the delay, Bulgaria captain Ivelin Popov was seen in a heated debate with a section of home supporters near the tunnel while the rest of the players headed for the dressing rooms for half-time.
What is Uefa's approach to dealing with incidents of racism?
Uefa has a three-step protocol, introduced in 2009, in place for dealing with such incidents in matches.
For the first step, the referee will speak to the stadium announcer and demand the halting of racist behaviour.
If it continues, the referee can take the players off the field into the dressing rooms for a period of time and the stadium announcer will make another address.
If it still continues, the match will be abandoned.
In this incident, the first step was taken. The players were asked if they wanted to come off the pitch, but decided to continue.
Southgate said: "I explained to the players that if anything else did happen in the second half we would be coming off.
"We all saw the second half was calmer and that allowed our players to do their talking with the football."
Ross Barkley and Raheem Sterling scored twice, while Marcus Rashford and Kane were also on target in a win which moves England to the brink of a place at Euro 2020.
'There can be no more pitiful fines or short stadium bans'
This is not the first time in England's Euro 2020 qualifying campaign that their players have been subjected to racist abuse.
In March Sterling was vocal in condemning the abuse received by England players during their 5-1 win in Montenegro.
Montenegro's punishment was to have two home games played behind closed doors and a fine of 20,000 euros (£17,000).
Anti-racism group Kick it Out has urged Uefa to take strong action, saying the governing body's current sanctions are "not fit for purpose".
"We are sickened by the disgusting racist abuse directed at England men's team by Bulgaria supporters - including TV footage which appeared to show Nazi salutes and monkey noises," it said.
"It's now time for Uefa to step up and show some leadership. For far too long, they have consistently failed to take effective action. The fact Bulgaria are already hosting this game with a partial stadium closure for racist abuse shows that Uefa's sanctions are not fit for purpose.
"There can be no more pitiful fines or short stadium bans. If Uefa cares at all about tackling discrimination - and if the Equal Game campaign means anything - then points deductions and tournament expulsion must follow."
Uefa told BBC Sport any action in response to Monday's events would have to follow on from a disciplinary committee, which in turn has to wait for a referee's report.
Anti-discrimination group Fare said it had observers in the stadium who will report to Uefa and form part of the governing body's investigation.
Fare's executive director Piara Powar said "the fact that it was widespread racism cannot be in doubt".
"Given the debate that took place before this match, the focus on the Bulgarian fans and the widespread warnings that were issued, the concerns expressed by players, officials, it was quite shocking to see what took place," he said.
"It seemed almost like the Bulgarian fans were determined to live up to the worst representation of themselves."
'This is a seminal moment'
Former England striker Ian Wright, a pundit for Match of the Day who was covering the game for ITV Sport, said what happened in Sofia could be a "seminal moment" for the issue of racism in football.
"It's a fantastic moment," he said, referring to the players' response to the abuse. "What is good about it is we have a generation of players - not just black players - who won't tolerate it any more.
"This is the 'by any means necessary' generation. They don't need to take that any more when they have their own platforms and the protocol to stick to.
"It's a great day. I feel really good watching this. We have had so many games where we have had this racial abuse and people say 'just beat them on the pitch'. It doesn't do anything. Today, they won because [the abusers] had to leave."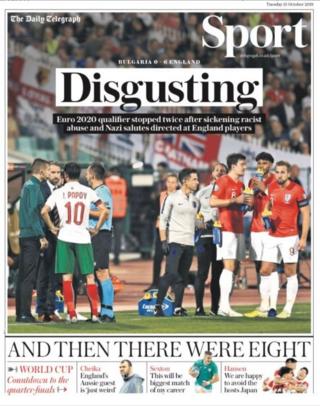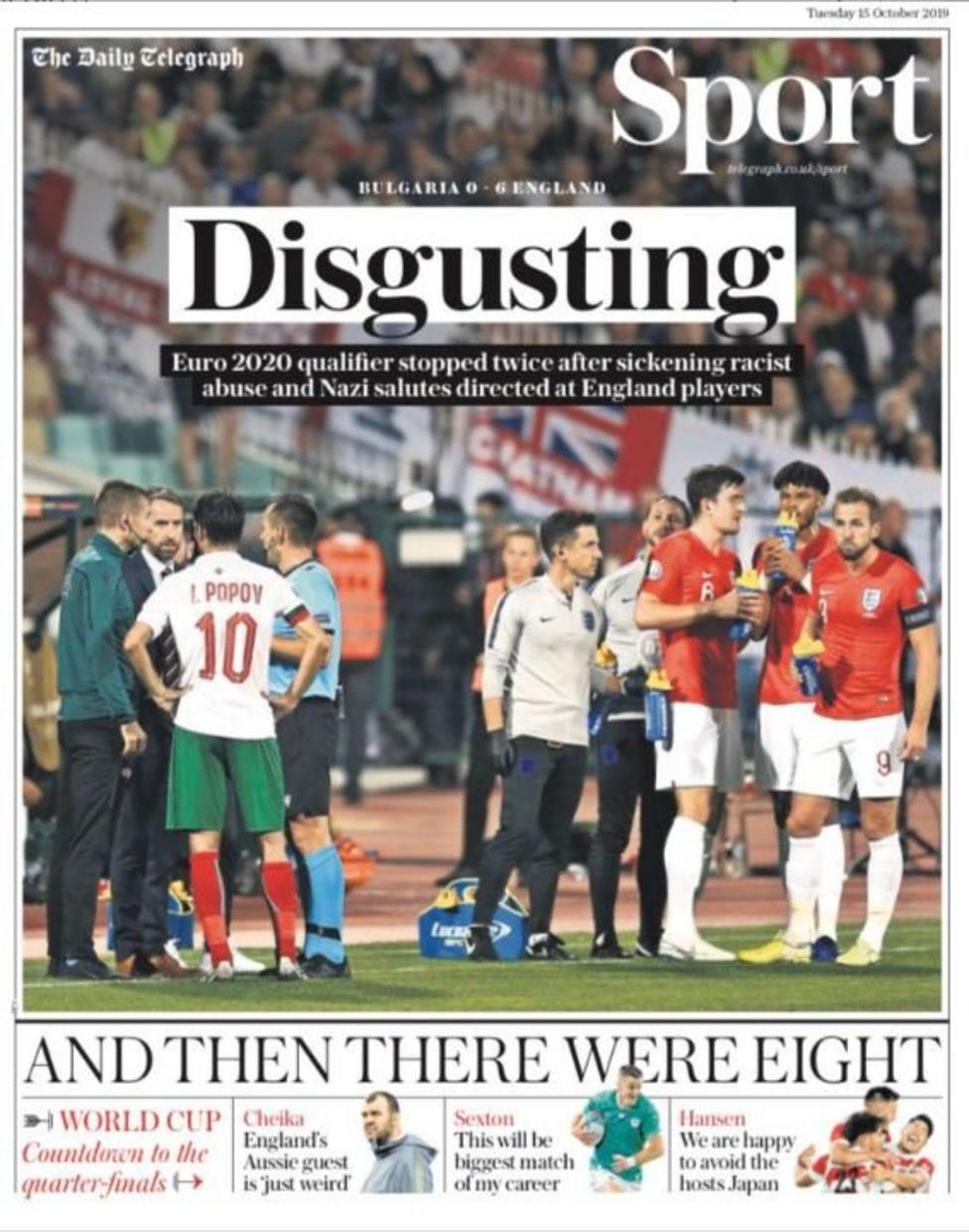 'Disgusting' - The Telegraph