Cenk Sahin to train with Istanbul Basaksehir after release from St Pauli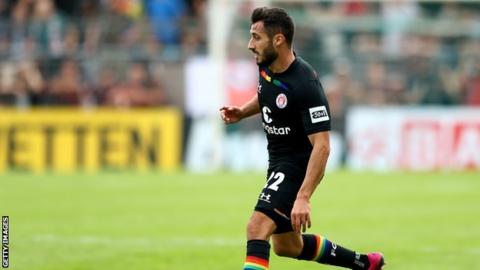 Turkish midfielder Cenk Sahin will train with his former club Istanbul Basaksehir after he was released by German side St Pauli following a pro-Turkish social media post.
Sahin, 25, had posted a message on Instagram in support of his country's military action in northern Syria - showing solidarity after Turkish troops were sent into Kurdish-held territory.
Basaksehir club president Goksel Gumusdag said: "This is his home. If he completes the necessary procedures he can train with our team at any time."
Sahin's message on social media had said: "We stand on the side of our heroic military and the armies. Our prayers are with you."
However, German second-tier side St Pauli said Sahin had shown "repeated disregard for the club's values" after there had been a strong negative reaction from their supporters towards the player.
His contract was not cancelled, but is free to train with other clubs with immediate effect, although he cannot register with another team until the transfer window reopens in the winter.
Sahin had spent six years at Basaksehir before moving to St Pauli in 2016 and Gumusdag said the club may re-sign the player, who represented his country at every age group from under-16s to under-21s.
"This door is always open to him if he wants to come in January," added Gumusdag.
"I am also proud of his emotional sharing, not only because he was a former footballer here, but because he is a Turkish footballer. I would've had the same sense of ownership.
"He is a very talented brother who is professional. We are always with you."
Sahin added: "This made me very happy. I was honoured that he [Gumusdag] supported me in this difficult process and called me directly.
"When I played here we were more like a father-son than a president. He never denied his support to the young players, that's why I'm so happy."