Dementia in football: Ex-players three and a half times more likely to die of condition
Last updated on .From the section Football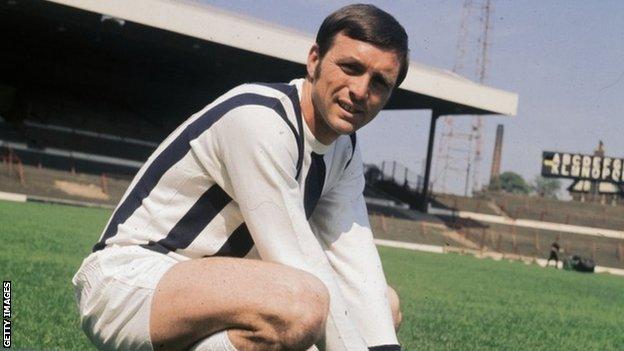 Former professional footballers are three and a half times more likely to die of dementia than people of the same age range in the general population, according to new research.
Experts at Glasgow University have been investigating fears that heading the ball could be linked to brain injuries.
The study began after claims that former West Brom striker Jeff Astle died because of repeated head trauma.
It compared deaths of 7,676 ex-players to 23,000 from the general population.
The sample was taken from men who played professional football in Scotland, and were born between 1900 and 1976.
The long-awaited study was commissioned by the Football Association and the Professional Footballers' Association after delays in initial research had angered Astle's family.
It began in January last year and was led by consultant neuropathologist Dr Willie Stewart, who said that "risk ranged from a five-fold increase in Alzheimer's disease, through an approximately four-fold increase in motor neurone disease, to a two-fold Parkinson's disease in former professional footballers compared to population controls".
Although footballers had higher risk of death from neurodegenerative disease, they were less likely to die of other common diseases, such as heart disease and some cancers, including lung cancer.
Dr Stewart said: "This is the largest study to date looking in this detail at the incidence of neurodegenerative disease in any sport, not just professional footballers.
"Our data show that while former footballers had higher dementia rates, they had lower rates of death due to other major diseases.
"As such, while every effort must be made to identify the factors contributing to the increased risk of neurodegenerative disease to allow this risk to be reduced, there are also wider potential health benefits of playing football to be considered."
'This is only the start of our understanding'
The link between contact sport participation and neurodegenerative disease has been subject to debate in recent years, but until this study, it was not clear whether there was any evidence of an increase in neurodegenerative disease rate in former footballers.
Former England international Astle developed dementia and died in 2002 at the age of 59. The inquest into his death found heading heavy leather footballs repeatedly had contributed to trauma to his brain.
But research by the FA and the PFA was later dropped because of what were said to be technical flaws.
Astle's family has campaigned for the football authorities to launch a comprehensive research programme.
His daughter Dawn said she was "relieved" the study eventually went ahead, and her father's case was highlighted by former England captain Alan Shearer in a BBC documentary Alan Shearer: Dementia, Football and Me.
Speaking about the findings of the Field (Football's Influence on Lifelong Health and Dementia Risk) research, various stakeholders said more research was needed.
FA chairman Greg Clarke said: "The whole game must recognise this is only the start of our understanding and there are many questions that still need to be answered.
"It is important the global football family now unites to find the answers and provide a greater understanding of this complex issue. The FA is committed to doing all it can to make that happen."
PFA chief executive Gordon Taylor added: "Research must continue to answer more specific questions about what needs to be done to identify and reduce risk factors."
"It is important world football takes a lead on this to ensure the appropriate action to such a complex matter," said Scottish FA president Rod Petrie.
Scottish FA chief executive Ian Maxwell added that the organisation "will also consider any implications for the grassroots game".
Brain injury charity Headway said further research should focus on modern lightweight footballs.
"We welcome the work done by Dr Stewart and his team, but this study was always going to leave a lot of questions unanswered.
"We have known for some time there is a link between the cumulative effect of repeated blows to the head - such as those suffered by boxers - and degenerative neurological conditions such as dementia.
"The fact this long-awaited study has now identified a link in former footballers will no doubt lead to questions about how this will impact the modern game.
"It is vital this research is now built upon, with a particular focus on the relative risks of heading lightweight modern footballs."