Southampton 0-9 Leicester: Ralph Hasenhuttl takes '100% responsibility' for defeat
Last updated on .From the section Southampton
Southampton boss Ralph Hasenhuttl says he takes full responsibility for his side's record-equalling Premier League defeat by Leicester, describing the result as "horrible".
"The performance was a disaster today and I have to apologise and take 100% responsibility," he said.
"I've never seen a team act like this, there was no fight for anything."
Leicester's margin of victory matches Manchester United's 9-0 win against Ipswich in 1995.
Hasenhuttl, 52, led Southampton to safety last season after taking over with the club 18th in the Premier League, but they are now winless in five matches.
The Saints have won only twice in the league in 10 games this season, with six defeats and two draws, and now sit third from bottom.
Hasenhuttl continued: "It was horrible to watch and everyone who stayed to watch is really a fan of this football club. Leicester were in every part of the game better than us.
"I'm a proud man but the way we play today is not the way I want to see my team play. We must get our heads up and that is my job in the next few days.
"I said we must play to the last minute but I can understand why the fans that left. We all must to do everything to pull this back."
When asked what was said to the players after the game, Hasenhuttl replied: "There is nothing I want to speak of here in front of the camera - we keep that for in the dressing room."
'Stuff of nightmares'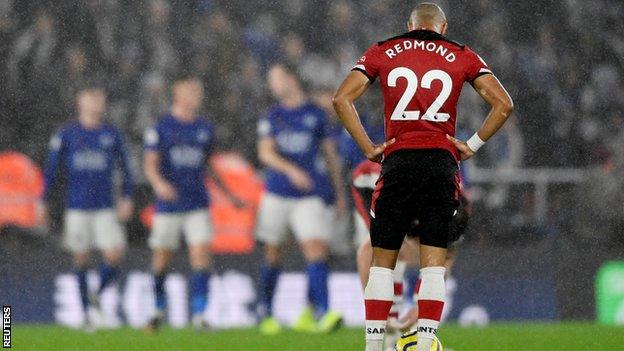 A dejected-looking Hasenhuttl emerged from the dressing room before his players for the start of the second half, with his side already trailing 5-0.
And striker Nathan Redmond echoed his manager's assessment of Southampton's humiliating 90 minutes.
"It was an embarrassing performance, the stuff of nightmares and one of the poorest since I've been at the club," Redmond said.
"We conceded goals far too quickly and will have to debrief that whole game from start to finish tomorrow.
"We need to do much, much better. I think we had a few players out of position after the sending-off and we tried to deal with it as best we could.
"There are the things we need to look at but it was an embarrassing performance."
How bad was it? The numbers
This was Southampton's biggest ever defeat as an English league side in all competitions in their history

Southampton's previous record top-flight defeat came at Everton in 1971 (0-8)

Southampton had previously lost 7-1 twice in the Premier League to Liverpool (January 1999) and Everton (November 1996)

Southampton have had a player sent off in each of their last three league meetings with Leicester, becoming the first side to receive a red card in three or more consecutive Premier League games against a single side since Newcastle against Liverpool in May 2014 (four in a row)
'Not enough players were behind their manager' - reaction
Former Everton midfielder Leon Osman on BBC Radio 5 Live:
From Southampton's point of view, apart from Bertrand's red card, not one other player received a yellow card tonight, they were so passive. They just allowed Leicester to play them off the park and they deserved everything they got tonight.
They were so passive, fighting for survival. They have to go out there. You can guarantee your effort, get about the pitch, put a tackle in, commit a foul. Tonight not many players showed they were behind their manager.
Former Stoke and West Brom manager Tony Pulis on BBC Radio 5 Live:
They were like shadow boxing, they never took their gloves off. You try and be constructive but the next few days I would seriously be looking at how easy Leicester found it. Southampton looked abysmal in their own final third.
Former Liverpool defender Jamie Carragher told Sky Sports:
Some of those players were a disgrace. It was an absolutely disgraceful performance that will reverberate around the Premier League.
Former Manchester United defender Gary Neville added on Sky Sports:
Some teams have a lot more resilience and cope better with losing a man - but they looked so fragile.
You feel for them when the stadium's empty. The fans here, I always thought they'd stay with the team, but they were booing them at half-time and at the end. Most had left, we must have had five or six thousand in at the end. That'll be a real worry.
'My son's first game' - how you reacted
Mike S Watchet: Four traffic-strewn hours to bring my Saints fan son to his first game for a first half like that. Football is cruel. So cruel.
Charlie: Season ticket holder on honeymoon who never misses a game. What a game to miss. Hassenhuttl out comments are way off the mark, he has been hamstrung with a poor squad due to terrible board decisions. Problems lie at the top.
Anders Svensson: We are a man down, but lack of effort from these clowns is what is getting me. Can't do basics. Every man and his dog knew we needed a commanding centre back in the summer, we spend what little money we do have on players like Adams to sit on the bench.
Celebcelery: Fingers will be pointed at Ralph Hasenhuttl but it's the players on the pitch who have raised the white flag. Shocking defending which has nothing to do with being down to 10 men.
Martin Tooth: Utter humiliation. And the worst thing about it is that if we hadn't sold the family silver and failed to adequately replace it, we could be doing what Leicester are doing. A shameful night for our club.