December's African football news in brief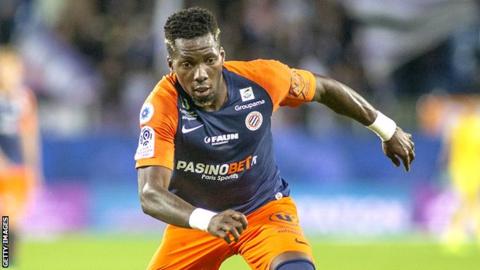 The latest African football stories in short for December.
Friday 6 December:
Cameroon international Ambroise Oyongo Bitolo is happy that his French top-flight side Montpellier trust him enough to offer him a new contract.
Exact details of the 28-year-old's new deal have not been disclosed."I'm very happy to have extended my contract. It's a show of trust from the club and I've got to repay them with good performances" Oyongo told the club's official website.
The club's president Laurent Nicollin is also happy with the new deal.
"We are trying to keep our current squad together for next season and Ambroise is amongst the most important players of the team," he told the club's website.
Oyongo's career began at Coton Sport of Garoua where he won three league titles and a Cameroon cup between 2010 and 2014 and has also stints in North America's Major League Soccer.
He was also part of the Cameroon squad that won the 2017 Africa Cup of Nations in Gabon. (By Njie Enow)
Thursday 5 December:
Kenya international Eric Ouma has signed for top-flight Swedish side AIK from third-tier club Vasalund.
The 23-year-old defender has signed a deal until 2024.
Ouma began his career with Kenya's Gor Mahia before moving to teams in Georgia and Albania on his way to playing in Sweden.
He has 26 caps for Kenya and played in all three of the Harambee Stars games at the 2019 Africa Cup of Nations in Egypt. (By Simon Reeves)
Wednesday 4 December:
The Rwandan government and the French champions Paris Saint Germain have announced a deal aimed at boosting the nation's tourism and trade.
In May last year the country secured a deal to advertise "Visit Rwanda" with English club Arsenal, including on the first-team shirt-sleeves.
The financial details of this latest three-year deal have not been disclosed but the one with Arsenal is believed to worth $30m.
Paris St-Germain tweeted a video of it players like Neymar, Kylian Mbappé, Marco Veratti and others praising Rwanda's tourism sites.
In an announcement by the Rwanda development board, the deal will see the country's tea and coffee be sold at Paris St-Germain stadium from next season.
"Visit Rwanda brand will be displayed at the Parc des Princes Stadium, on the sleeve of Paris Saint-Germain women's team, and on the back of training kits", it added. (By Cyuzuzo Samba)
Ibrahim Kargbo J, the son of former Sierra Leone captain Ibrahim Kargbo, has joined Ukrainian top-flight club Dynamo Kiev from Belgian side KSV Roeselare.
The 19-year-old has signed on a three-and-a-half-year deal with the Ukrainian giants.
The forward spent his youth career at English clubs Reading and Crystal Palace before returning to Begium to join Roeselare almost two years ago.
Kargbo Jr. initially moved to Belgium at the age of eight when his father was playing in Europe and has played for the Belgian under-18's but is still eligible to switch to Sierra Leone. (by Mohamed Fajah Barrie)
Tuesday 3 December:
Swedish top-flight side Helsingborg will not be using the option to sign Burkina Faso midfielder Ibrahim Bance on a permanent deal.
The 18-year-old joined Helsingborg in the summer on a short-term loan from Ivorian side Asec Mimosas with the option to buy.
After just six appearances, with just one start, the club have announced that Bance is returning to Ivory Coast.
"We thank Ibrahim for his time in the club and wish him luck in the future," the club said in a statement on its website. (By Simon Reeves)
Senegal's president Macky Sall has congratulated Liverpool forward Sadio Mane for finishing fourth in the Ballon D'Or award.
Mane has had an outstanding year as he helped Liverpool win the European Champions League, was joint top scorer in last season's Premier League and was part of the Senegal squad that reached the final of the Africa Cup of Nations.
"My dear Sadio - through me Senegal expresses its encouragement and congratulations for this fourth place on the Ballon D'Or list," he wrote on Facebook.
"You have shown tremendous selflessness and resolve which has become your defining trait will allow you, we are certain, to win this trophy. Bravo!"
The award was won by Argentina's Lionel Messi ahead of Mane's Liverpool team mate Virgil van Dijk and Cristiano Ronaldo. (by Mohamed Fajah Barrie)
Monday 2 December:
Tunisia international Hamdi Nagguez has left Egyptian side Zamalek, saying that he is owed three months salary.
His lawyer added that they have sent a complaint to football's world governing body, Fifa. over the issue.
"I announce that I broke my contract with Zamalek as they haven't paid my money, I wish all the best to my team mates and thanks to the great fans," Nagguez wrote on social media.
Nagguez joined Zamalek in January 2018 from Etoile du Sahel on a three-and-a-half-year contract.
Club president Mortada Mansour told the Zamalek website: "No player has any financial dues with the club, Zamalek will not give in to the demands of the players to change their contracts or get more payments at the moment." (By Tarek Talaat)