January transfer window 2020: When is deadline day around UK & Europe?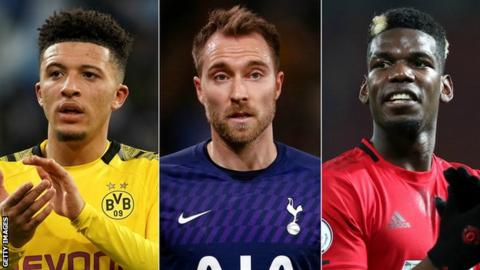 Clubs around the UK and Europe are expected to be busy in the transfer market in January but when does deadline day fall for this window?
When did it open and who has signed who so far?
BBC Sport provides you with all the information you need to keep up to date with all the big moves this month.
When does the transfer window close?
The window closing at 23:00 GMT on Friday, 31 January; Scotland's window closes an hour later.
France, Germany, Italy and Spain all have their deadline on 31 January.
The window shuts on 1 February in Portugal and 22 February in Russia.
The Chinese Premier League January transfer window closes on 27 February.
Can deals be completed after the deadline?
In the Premier League, clubs completing deals late on deadline day will be able to submit a 'Deal Sheet' between 21:00 and 23:00 GMT in order to give them more time to complete a transfer.
Clubs will then have until midnight on 31 January to complete the information required by Fifa's transfer matching system to apply for international clearance for new signings.
When did the transfer window open?
Premier League and EFL clubs have been able to sign players since 1 January.
You can keep across all the deals that have been completed so far here.
This season, players who have played for one team in Europe are no longer cup-tied when they move to another club participating in European competition.
Players not under contract at a club are allowed to join a new club outside of the window.
Where can I keep track of transfer rumours?
The latest rumours can be found in our gossip column here while a list of the potential big-name movers and shakers is here.