FA Cup: Culture secretary calls for FA to reconsider betting deal
Last updated on .From the section FA Cup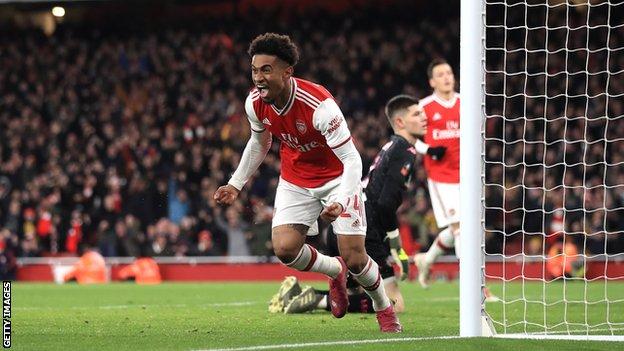 The government has called on the Football Association to immediately reconsider its decision to sell FA Cup broadcast rights via a third party to a gambling website.
The Secretary of State for Culture, Media and Sport says "things have moved on" since the contract was signed.
"I hope they will reconsider," Nicky Morgan said on Twitter.
Since the start of last season, bookmaker Bet365 has had rights to show FA Cup ties on its website and app.
The matches are available to anyone who had placed a bet or put a deposit in their account in the 24 hours before kick-off.
Sports minister Nigel Adams added: "The gambling landscape has changed since this deal was signed in early 2017. All sports bodies need to be mindful of the impact that problem gambling can have on the most vulnerable."
The FA has said it will "review this element of the media rights sales process ahead of tendering rights from the 2024-25 season".
Twenty-three third-round matches were available to watch on Bet365 last weekend - all those that did not kick off at 15:01 GMT on Saturday.
The FA announced it was cutting its ties with gambling firms in July 2017, but this deal was done in January 2017.
"The FA agreed a media rights deal with IMG in early 2017, part of which permits them to sell the right to show live footage or clips of FA Cup matches to bookmakers," it said. "Bet365 acquired these rights from IMG to use from the start of the 2018-19 season.
"This deal was agreed before we made a clear decision on the FA's relationship with gambling companies in June 2017 when we ended our partnership with Ladbrokes."
Former sports minister Tracey Crouch, MP for Chatham and Aylesford, said she was "deeply uncomfortable and disappointed by the sale".
Crouch, who resigned from her cabinet post in 2018 over delays to a crackdown on the regulation of fixed-odds betting terminals, said the FA had "always given the impression that they are conscious of the problems associated with gambling".
"Given the current challenges of regulating online gambling it will inevitably expose vulnerable people, including children, to gambling - something that can lead to long-term problems for society."
All matches in the FA Cup third round started a minute late as part of the FA's Heads Up mental health campaign.
Bet365 said in a statement: "Bet365 does not sponsor the FA or the FA Cup and does not have any direct commercial agreement with the FA.
"Bet365, along with multiple other operators, has the right to live stream certain FA Cup matches through a long standing media rights deal with IMG.
"There is no obligation on Bet365's customers to place a bet on any FA Cup match to enjoy the live streams at Bet365.
"To do so, customers are simply required to either have a funded Bet365 account or to have placed a bet on any event with Bet365 in the previous 24 hours.
"This requirement importantly ensures that all such customers are fully verified to prevent under-18s from accessing the service.
"Bet365 believes that these streaming services provide added value to its customers and enable them to watch FA Cup matches that they might not otherwise have been able to see."
The company's website says that gamblers are able to watch tennis, basketball, snooker, darts, cricket and squash through its streaming service.