When can Liverpool win the Premier League title?
Last updated on .From the section Premier League479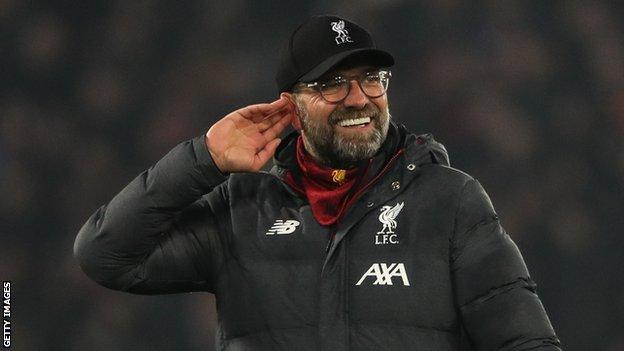 Liverpool could secure the Premier League title with a win at their local rivals, Everton, on Monday night.
Jurgen Klopp's side beat Bournemouth 2-1 on Saturday and next face Everton on Monday, 16 March at Goodison Park - and the trophy could then have red ribbons on it if results go their way.
Following their derby loss to Manchester United on Sunday, Pep Guardiola's men welcome Burnley on Saturday, after Wednesday's visit of Arsenal was postponed because of the coronavirus outbreak.
Another City defeat would leave Liverpool just a win away from the title, which could happen against their neighbours on Monday.
Victory over Everton, accompanied by a loss for City against Burnley, would leave the Reds 28 points clear - with just 27 points available to City in their nine remaining games.
Winning the title at Goodison would be especially sweet for Reds fans given a goalless draw there last year was one of the matches that ultimately proved critical as they missed out on snatching the title from Manchester City.
The stalemate in early March was the last time Liverpool dropped points that season, with nine successive wins still not enough to overhaul Guardiola's men, who claimed the title by a single point on the final day of the season.
BBC Sport has crunched the numbers to nail down the permutations for Liverpool becoming champions again.
When is the earliest Liverpool can win the league?
The only guarantee the Reds have is that two wins from nine games will be enough to be crowned champions, regardless of what their rivals do.
Two victories would put the Reds on 88 points, with Manchester City only able to reach a maximum of 87 points by winning all 10 of their remaining games.
Liverpool's second game from this point of the season is against Crystal Palace at Anfield on 21 March.
If Liverpool and Manchester City keep winning from this point, Klopp's side will have their first shot at securing the title against Palace.
Might it happen at the Etihad?
Should Liverpool win their next two Premier League matches, the title would be sewn up before their trip to Manchester City on 5 April.
Defeat to either Everton or Palace, combined with Man City beating Burnley, would leave the Reds knowing a win at Etihad would clinch them the title
What's the earliest a team has won the Premier League?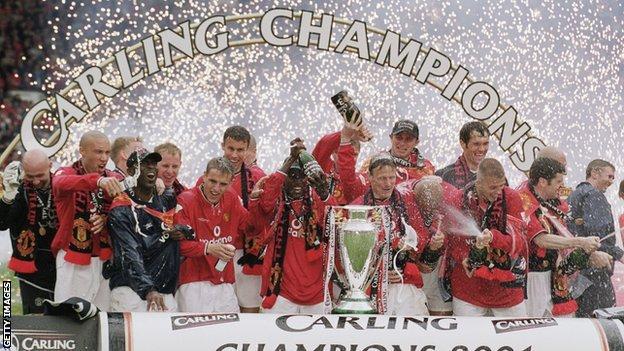 Manchester United hold the record for the earliest Premier League title win, with Sir Alex Ferguson's men claiming victory in 2000-01 on 14 April.
The earliest Premier League title win by games remaining, rather than by date, is five - a record also set by United in 2000-01, as well as Manchester City in 2017-18.
What is the biggest lead a team has had WITHOUT going on to win the title?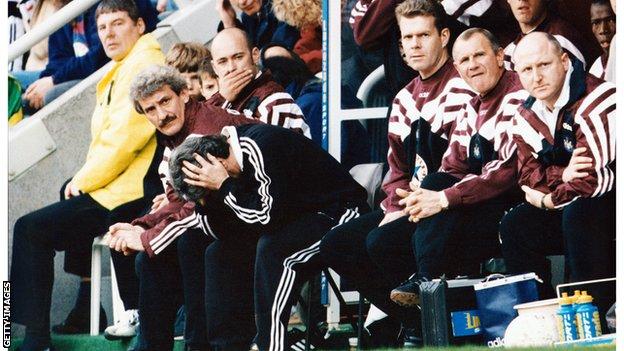 "I'd love it if we beat them, love it."
Who can forget Kevin Keegan's famous on-screen rant as his Newcastle side saw their lead slowly chipped away by Manchester United during the second half of the 1995-96 season?
Keegan's swashbuckling Magpies team led the table by 12 points on 20 January 1996 - with 15 games to play - but finished the campaign four points behind Manchester United in second. That remains the biggest lead a side has had in the Premier League without going on to win the title.
Now that is a record Liverpool do NOT want to break.