Scottish FA decades behind and need 'much bigger ambition' - Henry McLeish

By Alasdair Lamont
BBC Scotland
Last updated on .From the section Scottish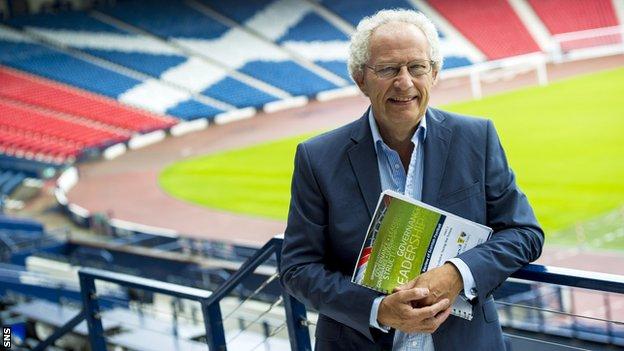 The man whose review of Scottish football became a blueprint for the future of the game has strongly criticised the Scottish FA for failing to reach many of its targets.
Former first minister Henry McLeish feels "let down" by an SFA board he says are "decades behind".
His review led to the publication of 'Scotland United: A 2020 Vision'.
"There have been some minor successes but we really haven't achieved the goals that were set out," said McLeish.
"It's a question of attitude and I come back to this point I've constantly stressed: the SFA structure is still old-fashioned. It's decades behind and if you look at some of the more promising countries of the world, they're going massively forward and it's all about investment in elite talent."
'Not the way a modern game should be run'
In 2015, an updated set of goals included the men's team qualifying for two out of the next three tournaments and an increased win ratio against higher-ranked opposition.
Solitary goal wins at home to Slovenia and Slovakia are the only such wins since 2015, while Scotland's absence from major men's tournaments has extended to 22 years.
The men's team, currently led by Steve Clarke, could end that run by winning through next month's Euro 2020 play-offs.
"On the national side I don't think there's much progress been made at all," added McLeish.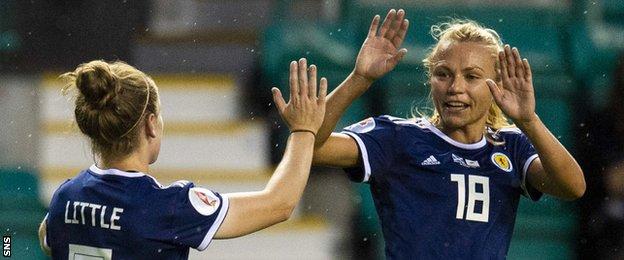 He says unless there is a dramatic overhaul, Scotland will continue to struggle to qualify for major competitions in the future, with the buck stopping with the SFA board.
"I feel very let down," McLeish explained. "I thought the review would produce a great deal more than it did but it's now up to those who occupy the seats of power at Hampden to take a think and actually realise if we're going to move forward they have to completely change attitude, change the institution, change the vision and have a much, much bigger ambition."
Scotland manager turnover
Craig Brown was the last Scotland manager to lead the men's team to a major tournament and McLeish said: "Over the last 22 years we've got rid of a lot of managers with no improvement in results. We've got the same board set-up where you appear as vice-president and you jump into being president.
"It's how things were run 40, 50, 60 years ago. This is not the way a modern game should be run. My basic concern is if a manager like Gordon Strachan, who I think was an excellent manager, is sacked because of the results on the field how do we hold to account the SFA president, vice-president and the board members?
"Should they not take some responsibility for what happens on the pitch and the consequent results? Nobody seems accountable for the demise of Scottish international football and it's unfair to blame that on the managers as we have done when in fact the reasons lie in terms of institutions, attitude, ambition and a desire to see Scotland, a once great footballing country, return to that position.
"No board of any company would have a president or board members if they kept delivering failure and no matter how you look at it, we're not making progress, it's failure in every tournament we've entered since 1998.
"We seem to get rid of everybody except the people who are running the show. A big question they should ask themselves is when do they take responsibility? If they had more responsibility for the state of the national game, it may make them think harder in relation to improving the national game."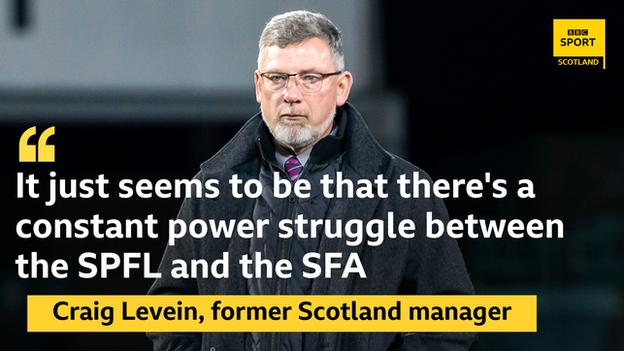 McLeish acknowledges the performance schools introduced in the wake of his review are bearing fruit but feels the Scottish Professional Football League holds too much sway over development and the running of the game as a whole.
"My concern is the SFA have got to stamp their authority on the game," he said.
"They're responsible for the national side, not the clubs and to me there's too much of an overlap between the clubs and the SFA at this time.
"I'd like to see radical change with more people from the outside on the SFA board, fewer people from the SPFL.
"I want the SFA to climb above all of this and realise they are the prime promoters of Scottish football but they've got to make their distance from the clubs because national football is very different from club football.
'Clubs and cities have failed Scottish football'
"I think the great weakness of Scottish football is how we develop young talent. My concern is that while the performance schools have done their part, I wanted to see a set of regional academies introduced throughout Scotland.
"That hasn't happened. I think the investment that's gone in to youth football is not what I would like it to be and I think we've fallen back on this old idea that only the big clubs can produce talent for the national side.
"That simply has never been the case in Scotland and I'm worried now we're rejecting the idea of looking at talent in every part of Scotland and beginning to concentrate once again on the clubs and the cities to be honest that have failed Scottish football at international level."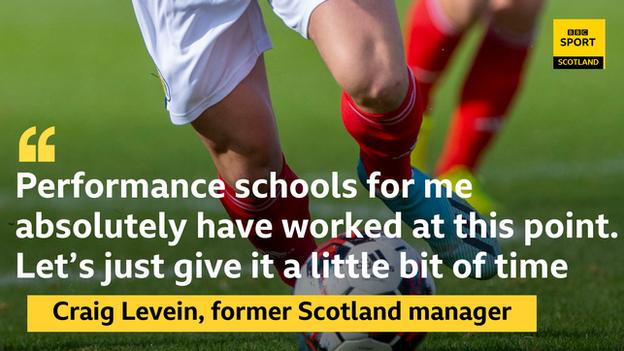 And even the SFA's part in one of Scottish football's recent success stories - the women's national team - is not beyond criticism as far as McLeish is concerned.
"Superb," said McLeish. "Great success. When I was doing the review there was still a very big reluctance to take the women's game seriously. I think they've shown by performance they can do it.
"But what are we doing to celebrate that success? It may well be that somewhere in Hampden they're planning how we can build on that success for young girls, for women as we go forward.
"But I don't see any signs we've actually built on this tremendous success of the women's game. The important point there is if you look at other countries - the USA in particular - the game has really developed. I'd like to see that in Scotland. I'd like to see more investment, more resources. Yes we've made progress, yes the women have done fantastically well themselves but we could do a great deal more."
BBC Scotland approached the SFA for an interview with chief executive Ian Maxwell or performance director Malky Mackay, but this has not been provided.