Flybe collapse: Exeter City look for new sponsor after airline's demise
Last updated on .From the section Exeter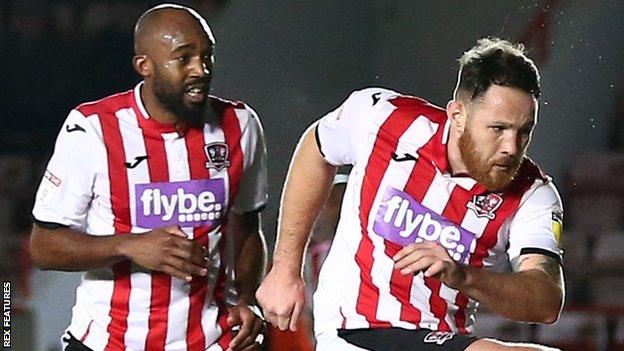 Exeter City are looking for a new shirt sponsor after the collapse of Flybe.
Chairman Julian Tagg says he would consider a new sponsor between now and the end of the season if they could come to a suitable deal.
"If there's somebody that wants to use the front of the shirt between now and then that's something we'll have to discuss," he told BBC Radio Devon.
City were not owed any money by the firm for sponsorship and the current deal - worth in excess of £50,000 - ended at the end of this season.
Exeter's 17-year sponsorship deal with Flybe was one of the longest in football, and was signed when the club were in financial peril in what is now the National League.
"What they did for us was absolutely critical, almost lifesaving in a way," Tagg added.
"Of course it's going to affect us, but we've been linked to what's been going on so we've been aware there may be a problem, so as you would in any situation you look at some kind of succession planning and I know our commercial department have been doing that."
Exeter City are offering former Flybe employees free entry to Monday night's Under-23 Premier League Cup match against Newcastle United.