Everton target trophies for Women's team with extra investment and new leadership structure
Last updated on .From the section Women's Football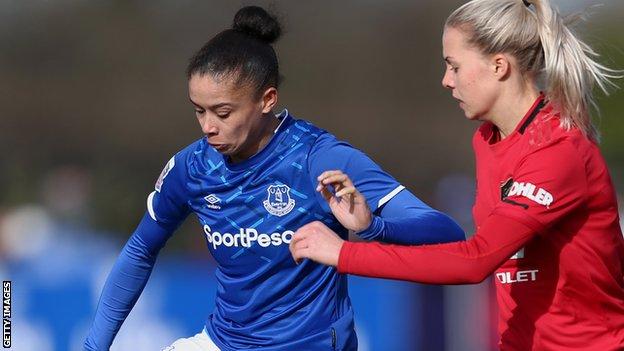 Everton chief executive Denise Barrett-Baxendale has said the club want Everton Women to challenge for trophies after announcing extra investment and support for the women's team.
The new structure will see Barrett-Baxendale work with Sarvar Ismailov, who will become Everton Women's first sporting and commercial director.
"Our targets for the women's team will be the same as the men," she said.
The strategy includes greater investment in the playing squad.
"We have overlaid our strategic plan from the men's team to the women's so that 'nothing but the best' is good enough for the women's team," Barrett-Baxendale told BBC Sport.
"It's a really exciting time and one the women's team are really proud to be part of.
"These are serious athletes and deserve the support and what we're doing is putting a strategy in place to help secure that for them."
The women's team, currently seventh in the Super League, recently moved into their new home at Walton Hall Park, just a mile from the Goodison Park ground of the men's team, and also use Everton's Finch Farm training base.
The new vision involves increased leadership support, greater commercial opportunities, enhanced media coverage and a "better connection" to the club's community programmes.
"We're being very clear how this transfers to the pitch and what this means for securing players but the wider support is as important as the financial support on the pitch," she added.
"It's a really important message for Evertonians and what the fans expect.
"We are one club and collective in our ambitions and we want to compete on all levels with everything that has Everton's name in it."