Jersey Bulls set new Combined Counties League record after British Airways win
By Daniel Andrade
BBC Sport
Last updated on .From the section Football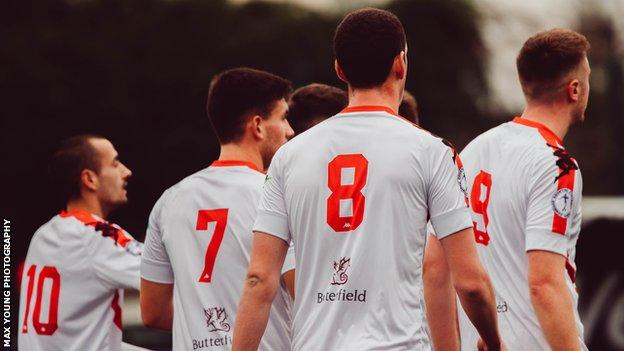 Jersey Bulls broke the Combined Counties League record for consecutive wins they beat British Airways 2-0 for their 27th successive victory.
Fraser Barlow headed the Bulls ahead midway through the first half.
Winger Zeljko Martinovic secured the record with a late strike that sees the Bulls 21 points clear at the top of Combined Counties Division One.
The Bulls have won every competitive game they have played since being formed last summer.
"The record is a bonus," Bulls' assistant manager Kevan Nelson told BBC Sport.
"It is something that has come from us playing well and working hard.
"I'm not sure what anyone expected - if anything. The level was going to be difficult to judge so we didn't try and second-guess it.," added nelson on his sides first season in the English football pyramid.
"So much effort has gone into getting things right on and off the pitch. It is a great feeling."
The islanders beat Withdean's 26-game winning run that was set as they went on to win the Premier Division of the Combined Counties league in the 2002-03 season.
Jersey have secured instant promotion out of the Combined Counties Division One League, with those closest to them having to still play each other.
Jersey Bulls' winning start to the league season
3 August: Beat Ash United 3-0 (h)
14 August: Beat Deportivo Galicia 6-0 (a)
17 August: Beat Godalming Town 5-0 (a)
25 August: Beat Fleet Spurs 4-0 (h)
26 August: Beat Westside 1-0 (a)
7 September: Beat Bagshot 7-1 (h)
14 September: Beat Kensington and Ealing Borough 5-1 (a)
21 September: Beat Eversley & California 5-1 (h)
28 September: Beat AFC Hayes 2-1 (a)
5 October: Beat Sandhurst Town 4-1 (h)
12 October: Beat British Airways 4-0 (a)
19 October: Beat Walton and Hersham 1-0 (h)
2 November: Beat Dorking Wanderers reserves 5-0 (h)
9 November: Beat Bedfont and Feltham 3-0 (a)
16 November: Beat Epsom and Ewell 2-0 (h)
23 November: Beat Cove 7-0 (h)
30 November: Beat Farnham Town 4-0 (h)
7 December: Beat Tooting Bec 1-0 (a)
14 December: Beat Godalming Town 2-0 (h)
28 December: Beat Farnham Town 2-0 (a)
4 January: Beat Cove 1-0 (a)
25 January: Beat AFC Hayes 7-2 (h)
1 February: Beat Chessington and Hook United 6-0 (h)
8 February: Beat Walton & Hersham 3-0 (a)
15 February: Beat Kensington and Ealing Borough 4-0 (h)
22 February: Beat Bedfont and Feltham 3-0 (h)
7 March: Beat British Airways 2-0 (h)