Fifa: Summer transfer window to move & player contracts ending 30 June to be extended
Last updated on .From the section Football921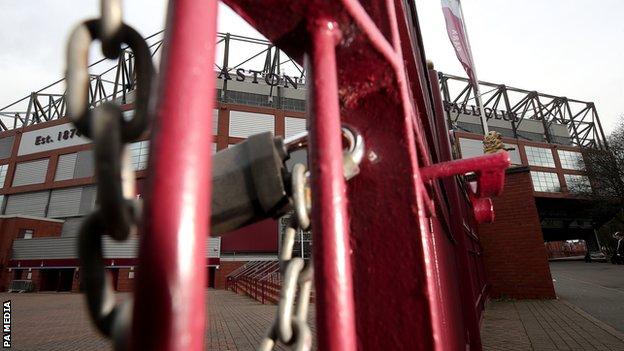 The summer transfer window will be moved and contracts ending on 30 June will be extended for a short period under proposals agreed by all football's major stakeholders, world governing body Fifa has confirmed.
It is now accepted by all parties that the initial hope of completing the 2019-20 season by 30 June will not happen.
After agreement was reached with major stakeholders about the way forward, new proposals have been approved by Fifa's Bureau of Council.
With many player contracts scheduled to expire at the end of June, it has been agreed those deals will automatically extend until whenever the season eventually ends - with new deals beginning before the 2020-21 season starts.
"It is now obvious that the current season will not end when people thought it would," Fifa said in a statement.
"Therefore, it is proposed that contracts be extended until such time that the season does actually end.
"A similar principle applies to contracts due to begin when the new season starts, meaning the entry into force of such contracts is delayed until the next season actually does start.
"It is also necessary to adjust the normal regulatory position to the new factual circumstances.
"Accordingly, Fifa will be flexible and allow the relevant transfer windows to be moved so they fall between the end of the old season and the start of the new season."
Uefa president Aleksander Ceferin has spoken of the campaign being concluded in August, with La Liga counterpart Javier Tebas speaking optimistically about a resumption in Spain in late May.
However, with domestic leagues and cups, plus European competitions to fit in, there is no guarantee of that given the continent's leagues - with the exception of Belarus - remain suspended.
Fifa has urged clubs to protect jobs if at all possible and is encouraging clubs and players to work together to find agreements.
However, it said if agreement cannot be reached it will use a set formula if it is asked to resolve disputes.
The governing body would consider:
whether there was a genuine attempt by the club to reach agreement with the players;

the economic situation of the club;

the size of any adjustment to player contracts;

the net income of players after any contract adjustment;

and whether players have been treated equally.
While it is accepted this advice is for guidance only and could be challenged legally, all parties hope it will be accepted in the spirit the contracts were agreed in the first place.
"While this will not solve each and every problem, it should serve to bring a measure of stability and clarity to football for the foreseeable future," Fifa president Gianni Infantino said of the measures.
"We hope that this collaborative effort, under the leadership of Fifa, can provide a positive example of how football can come together and show unity, solidarity and a spirit of compromise in order to face the challenging times ahead.
"But before these times come, one thing must be clear to everyone, especially now: health comes first, well before football."