Cyril Lawrence: Former Wrexham player dies aged 99 of Covid-19
Last updated on .From the section Wrexham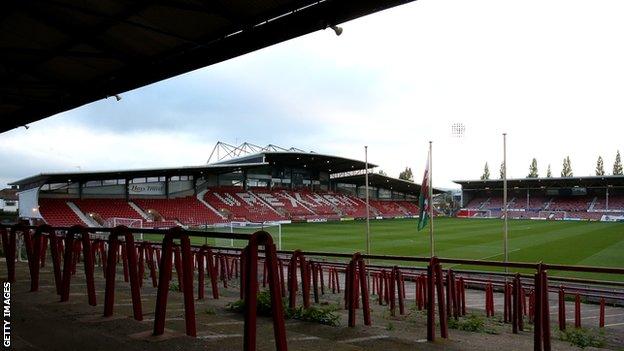 Former Wrexham player Cyril Lawrence has died at the age of 99 from Covid-19, six weeks before he would have turned 100.
The inside forward began his career with Blackpool in 1939, with his time there interrupted by World War Two.
Lawrence joined Rochdale in 1947 before signing for Wrexham in 1950, ending his professional career with them in 1952.
"Cyril will be sadly missed by all his family and friends," his nephew David Lyons told the Salford Star.
"With his health failing in recent years he was admitted for some respite care before the Covid-19 pandemic broke and whilst in lockdown caught the disease.
"He was admitted to the Royal Bolton Hospital on 11th April and was given palliative care, saying his goodbyes to his family via a video link. He died at 9am on the 14th April."
Lawrence was on the cusp of the Blackpool first team as a 19-year-old when World War Two began in 1939, during which he served in the Royal Navy.
His football career was cut short at the age of 31 after suffering a serious knee injury.
Lawrence is survived by his wife Clara and their two children Elaine and Norma.