League Two clubs committed to ending season but questions remain
Last updated on .From the section League Two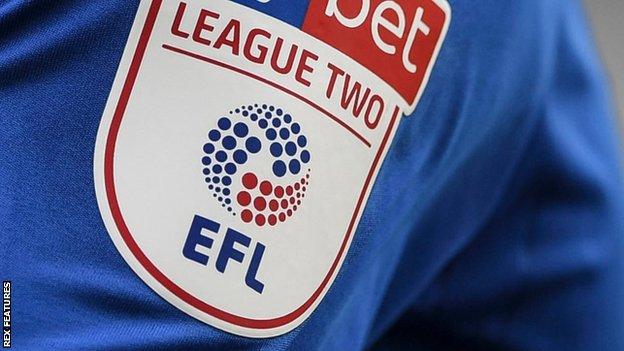 League Two clubs remain committed to finishing the 2019-20 season, but huge question marks remain over their ability to achieve it.
The clubs spoke in a video conference on Tuesday and have resolved to try to see out the campaign.
However, major challenges caused by the coronavirus pandemic could derail that ambition.
The huge number of players whose contracts finish on 30 June is one of the major issues.
With clubs starved of revenue and some owners suffering issues with their private businesses, sanctioning extensions to these deals has become a major problem.
It could lead to teams having to field massively under-strength sides if the campaign goes beyond 30 June and there have been suggestions League Two would ask the English Football League, en masse, to end the season prematurely.
BBC Sport has been told this will not happen yet but, with so many problems facing clubs, there is no guarantee it will not unless there is clarity over when the campaign will resume.
Ending season not on agenda - Cowling
Colchester United chairman Robbie Cowling has said suggestions the League Two clubs held a vote to end the season were "fake news".
He told BBC Essex: "An hour before the meeting, a chairman from one of the clubs asked 'should we be ending the season to have some certainty', so we did have a questionnaire go out to ask our thoughts, but we are a long way from having a vote.
"We don't know the implications of not finishing the season."
Cowling said he would like to see the season played to a conclusion "even if it means games being played behind closed doors" and streaming the games online.
"We don't know when we could start a new season, especially in front of crowds, so I think we just need to get on with things as best we can," he added.
"It would be weird to play behind closed doors but we're all having to get used to weird things and I think the players would be great. They want to get on with it and play football when it's safe to do so."
Colchester are sixth in the fourth tier and have nine games left to play.