Newcastle United takeover: BeIN Sports & Amnesty warn Premier League

By Dan Roan
BBC sports editor
Last updated on .From the section Newcastle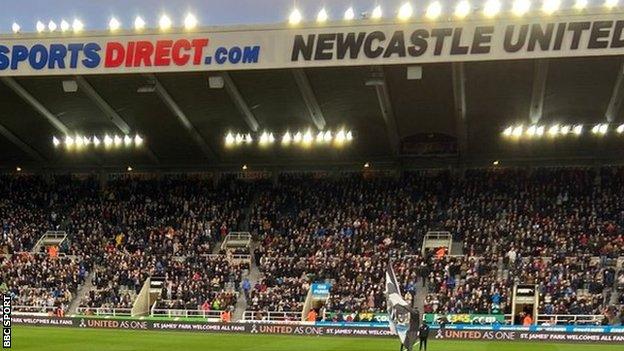 The Premier League has been urged by one of its largest overseas broadcast partners to "fully interrogate" Newcastle United's proposed £300m takeover.
The chief executive of the Qatar-based TV giant beIN Sport, Yousef al-Obaidly, has written to the chairs of top-flight clubs about the deal, which could see the Magpies bought by a Saudi-backed consortium.
In the letter, Al-Obaidly accuses the Saudi Arabian government of the "facilitation of the near three-year theft of the Premier League's commercial rights - and in turn your club's commercial revenues - through its backing of the huge-scale beoutQ pirate service".
"It is no exaggeration to say that the future economic model of football is at stake," added Al-Obaidly, who has also written to Premier League chief executive Richard Masters.
Broadcaster beoutQ has been illegally showing matches - mainly in Saudi Arabia - despite the rights to show games in the region belonging to beIN Sports, who are currently in the middle of a three-year deal with the Premier League worth £400m.
Last year football authorities attempted to shut the beoutQ service down without success.
Saudi broadcaster Arabsat has always denied that beoutQ uses its frequencies to broadcast illegally and has accused beIN of being behind "defamation attempts and misleading campaigns".
Describing the issue as "a matter of urgency", Al-Obaidly continues: "Given the crippling economic effect that coronavirus is having on the sports industry, this is all happening at a time when football clubs need to protect their broadcast revenue the most."
Saudi Arabia's sovereign wealth fund the PIF (Public Investment Fund) is understood to be set to acquire an 80% stake in the club as part of a consortium including financier Amanda Staveley and billionaires the Reuben brothers.
Mike Ashley has owned Newcastle since 2007 and put them up for sale in 2017.
In his letter to Masters, al-Obaidly says: "To the extent the reports about the acquisition of NUFC are correct, we consider it essential for the Premier League to fully investigate the potential acquirer of the club, including all directors, officers and other representatives from the KSA PIF or other Saudi Arabian entities involved in, or otherwise providing any financing for the acquisition.
"There appear to be several reasons why such an investigation is being called for by other parties; our request is purely based on Saudi Arabia's past and present theft of your and your member clubs' intellectual property rights."
The Premier League must decide whether the group of investors backed by Saudi Arabia's sovereign wealth fund meets its owners' and directors' test and is understood to currently be in the process of working through paperwork connected to the deal, which could take two to three weeks.
BeIN have asked the Premier League in its owners' and directors' test to consider "the direct role of Saudi Arabia" in the beoutQ service, the challenge the Premier League faces in "taking any action to protect its own intellectual property rights in the country" and its ability to "enforce" its rules against "Saudi Arabian based persons or entities".
This comes during a time when both Saudi Arabia and Qatar are involved in a wider diplomatic row in the Middle East.
BeIN is not thought to be considering its partnership with the Premier League, though last year the group did threaten to pull its deal with Serie A over the decision to stage the Italian Super Cup in Saudi Arabia.
Amnesty criticise takeover
Human rights campaigners Amnesty International have also criticised the potential deal.
Amnesty UK director Kate Allen said in a separate letter to Masters: "So long as these questions [about Saudi Arabia's human rights record] remain unaddressed, the Premier League is putting itself at risk of becoming a patsy of those who want to use the glamour and prestige of Premier League football to cover up actions that are deeply immoral, in breach of international law and at odds with the values of the Premier League and the global footballing community."
BBC Sport has contacted the Saudi wealth fund and representatives of the consortium asking for a response to Amnesty's letter.
The Premier League declined to comment on the Amnesty letter and Newcastle have also been approached by BBC Sport.
Amnesty - a non-governmental organisation which focuses on human rights - has long criticised Saudi Arabia's human rights record, pointing to long-standing issues including women's rights, the treatment of the LGBT community and the restriction of free speech.
Western intelligence agencies also believe the killing of journalist Jamal Khashoggi inside the Saudi consulate in Istanbul in October 2018 was ordered by the Crown Prince - something he denies. Saudi authorities blamed a "rogue operation" for Khashoggi's death.
The country has also been accused of 'sportswashing', a term used to describe countries that try to improve their international reputation by investing in major teams or hosting big sporting events.
"The Crown Prince has been using sporting events and personalities as a means of improving the Kingdom's reputation following the grisly murder of the journalist Jamal Khashoggi - widely believed to have taken place with his approval," the Amnesty letter continued.
"Such positive associations with sporting events also distract attention from Saudi's appalling human rights record, including the imprisonment and torture of women human rights defenders."
Accusations of sportswashing have previously been rebuffed by the man heading Saudi Arabia's unprecedented investment in sports, HRH Prince Abdulaziz bin Turki Al Faisal.
"We want to get people more engaged in sport," he said. "In 2015 just 13% of Saudis took part in sports for half an hour or more each week; we want that to be 40% by 2030. This is all part of a programme designed to get people more active."