Gretna: A poor man's Sergio Aguero and Highland fairytale
By Stephen Couse
BBC Sport Scotland
Last updated on .From the section Scottish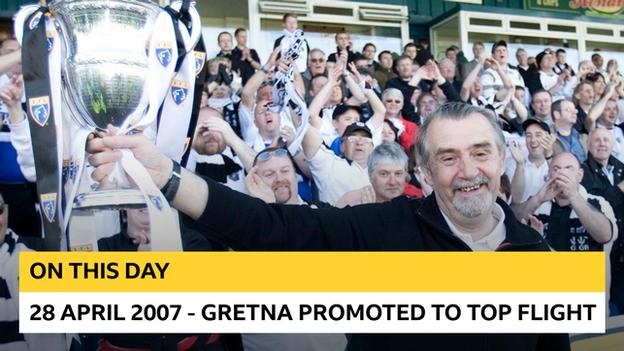 Sergio Aguero sealing Manchester City's first title in 44 years in the dying moments. Mikel Arteta netting a late Rangers penalty in a goalfest that won them the title on goal difference.
James Grady and Gretna can count themselves right up there alongside the most dramatic finishes to a league season in football history.
The club from a small village in the south of Scotland were on the cusp of making history 13 years ago, aiming to win their third consecutive promotion to soar into the top tier by beating Ross County on the final day of the season.
St Johnstone were hot on their heels, and despite Gretna leading 12 points earlier in the season, it all came down to one fateful day in Dingwall.
On the 13-year anniversary of that game, BBC Scotland speaks to those involved about the day the "poor man's Aguero" helped make history, and the rise and tragic fall of the Anvils.
The dream start
Gretna were coming off the back of an astonishing season in the third tier of Scottish football. They had won the league by a comfortable 18 points, reached a Scottish Cup final where they were only beaten on penalties by top-tier side Hearts, and even consequently qualified for Europe. The expectation for their second-tier campaign was that they would easily make history by winning their third consecutive promotion to the Premier League. But things didn't go entirely to plan.
Former Gretna striker James Grady: "We firmly believed we were going to win the league from day one. The players we had were good enough to win the leagues heading into the top division. When Rangers went down to the lower-leagues, I think they tried to match teams down there, go big for big, whereas we didn't - we played a lot of good football."
Former Gretna chief executive Graeme Muir: "We were well clear, but then things started to happen at the club and we started dropping points. The team had marched through the divisions, then all of a sudden in the second tier, the first hurdles and sticking points came."
Uncertainty, animosity and squeaky bum time
Rowan Alexander, who had guided the club through their incredible journey up the divisions, was no longer in the dugout by March 2007 after a string of poor results cut the 12-point lead they had gained. His assistant Davie Irons took charge of the team in his leave of absence, but the circumstances were shrouded in mystery.
Former Gretna manager Davie Irons: "There had been rumblings things weren't quite right, uncertainty going around. When I look back, that was the start of the financial side of things becoming more of an issue. Mick Wadsworth was appointed director of football, and his main priority was to get the club more financially stable and not solely reliable on Brooks Mileson's money as owner.
"That was such a difficult task - to try and win a championship at the same time as trying to change your squad. It was probably the most stressful time I had as a coach.
"We lost to Queen of the South and things came to a bit of a head, and I think Brooks thought Rowan was struggling to cope with it all. He asked Rowan to take a break for his own sake and his own health, and left me to take over, along with Mick Wadsworth."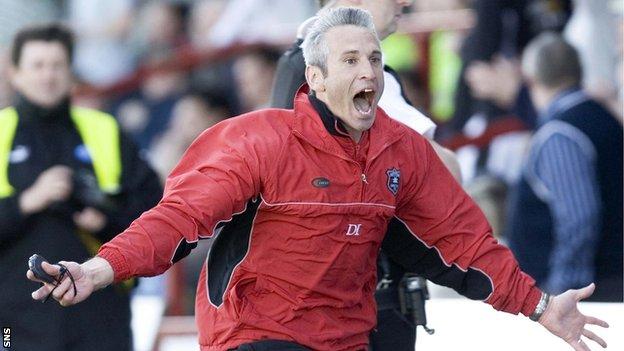 Grady: "When Wadsworth came in [as director of football in 2006 and later as assistant to Irons], that's what turned the place on its head really. Nobody knew why he was in, what his role was. At one point, myself, Steve Tosh and big Kenny Deuchar were made to train with the kids down at Penrith. I couldn't tell you the reasons for it. That was through Mick Wadsworth.
"The experienced guys in there, we weren't the type to accept what was going on without being told why it was going on."
Muir: "It was the reality of us heading towards the bigger league of the top tier. To use the old Alex Ferguson football term, squeaky bum time came in big style. It was almost as if it was set up for that helicopter Saturday. It was destined in a sense, you just got that feeling."
Helicopter Saturday and the 'poor man's Aguero'
After leading by 12 points, Gretna's lead at the top was cut by St Johnstone, meaning only a win on the final day against Ross County would guarantee promotion for the Anvils.
Irons:" I think it was the expectation of everyone, locally, and nationally, that Gretna were expected to go and win promotion. We went to being everybody's favourite to nobody liked us anymore. The pressure to get over the line was immense.
"During the game, I remember the result from Hamilton coming through that St Johnstone had as good as won, and it was level in our game, so as it stood St Johnstone were going to be champions."
Grady: "When I was sent to train in Penrith with Kenny Deuchar and Steve Tosh when Wadsworth came in, we weren't allowed to go to the games either. I didn't know what to do with myself. I ended up getting two tattoos for the first time ever of my son's names up my arms. I booked it for three o'clock on the Saturday because I didn't know what to do.
"I remember going in at half-time. I looked down and I saw the names of my two sons. That's what really focused my mind again - I thought 'I'm not going down the road without this medal'.
"The announcer read out the attendance and the man of the match, so you knew it was nearly over. Then Colin McMenamin got it five yards in our own half, an he hits a right to left diagonal, maybe 50 yards to David Graham. I spoke to David recently and said to him "you bottled it". He could see the whites of the goalie's eyes. He never took it on, and passed it through to me, and I managed to slip it underneath him.
"It was a magnificent feeling. Sergio Aguero then blew it out of the water unfortunately - I'm the poor man's Aguero. It will live with me forever though. It was a fantastic ending - the old Gretna mantra, living the dream. There was no point in winning it by 13 points, Gretna just had to do it some other way."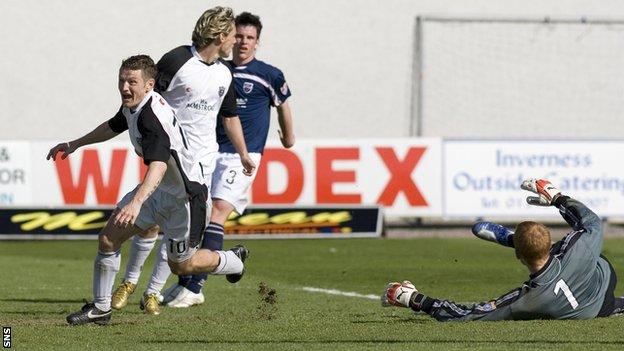 Muir: "It was elation, and relief in a sense, it was later on you thought what have we actually went and done here. Initially it was excitement and joy, you'd won it in dramatic fashion, you couldn't have written it. It was box office stuff, it was drama.
"Everybody had a high regard for Brooks Mileson, and what he had done at the club. People who knew him closely understood his health wasn't going to get any better. The great thing was a bit of joy for him, on that day."
Grady: "Obviously coming down that road back you pass McDiarmid Park, and the noise on that wee stretch of road was frightening, we were desperate to get the bus driver to drive through Perth town centre, but he wasn't for having it!"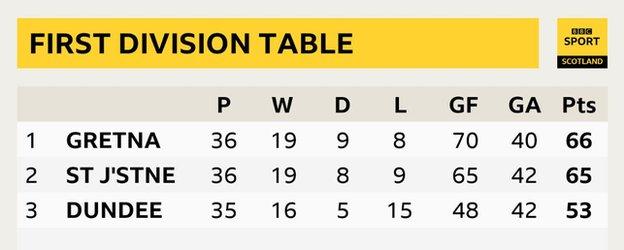 The end of a fairytale
While St Johnstone's dreams were shattered, Gretna's fairytale rolled on. The only Scottish club to date who achieved three consecutive promotions were set to play top-flight football for the first time in their history. However, it would all come to a heartbreaking end. Mileson's poor health led to his financial support being withdrawn from the club. The club were placed into administration and were eventually liquidated, while Mileson passed away months later.
Grady: "I wouldn't hear a bad word said about Brooks Mileson. A fantastic man, down to earth, and anything he ever said to me was going to happen happened."
Irons: "We had someone who was passionate, loved his football, and was an unbelievable person, and I'm not even talking about his generosity, just Brooks as a man, he was an incredible individual who gave everything to Gretna.
"He had this ambition to achieve something from nothing. And he did. Sadly he didn't see much of the Premier League season, he had a stroke and was housebound, then the family made the decision they couldn't support the club and that was really the end of Gretna as we know it."