SPFL: Rangers claim clubs unaware of £10m liability ahead of season vote

By Brian McLauchlin
BBC Scotland
Last updated on .From the section Scottish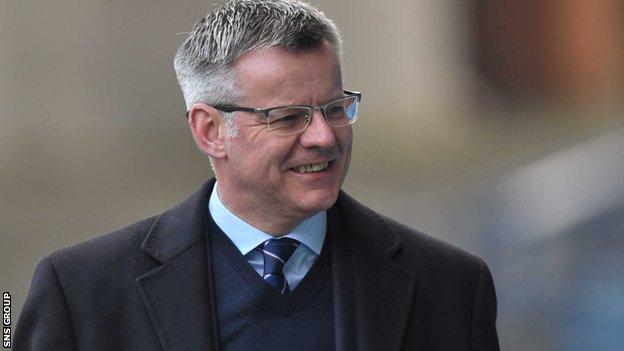 Rangers claim clubs were not informed of a potential £10m liability and "substantial problems" with league reconstruction before they voted to end the season.
The Ibrox club say the information was omitted from the briefing paper sent to clubs before the vote and was not approved by the SPFL board.
Rangers circulated a dossier to the other 41 clubs on Thursday.
The SPFL says there is no evidence to support claims of bullying or coercion.
Clubs are examining the documents, with a vote on the need for an independent investigation set for 12 May.
Rangers say the league could be liable for refunds of up to £10m from broadcasters and sponsors by prematurely ending the season.
Rangers also claim:
SPFL chief executive Neil Doncaster and Scottish FA chief executive Ian Maxwell wrote to Uefa, six days before the resolution vote, stating the "vast majority" of SPFL clubs want the season curtailed

Material information was not made available to member clubs to allow them to make a fully informed decision on the written resolution

Clubs were told erroneously they could only receive cash by voting for the SPFL resolution

There are reasonable grounds for suspecting that Doncaster may have breached his fiduciary duty as a director

Legal advice states the club has a "reasonably good prospect" of obtaining a court order for Doncaster's removal as director and chief executive

The Ibrox club received four "cease and desist" requests from SPFL legal adviser Rod McKenzie
In summary, the legal advice Rangers have received from Advocate Eoghainn CM MacLean states that: "In the circumstances, Rangers has a reasonably good prospect of obtaining, from the court, an order for Mr Doncaster's removal as director and chief executive. The prospect may be enhanced, if other clubs joined in an application for such an order."
An SPFL spokesman said: "It is now a month since Rangers accused the SPFL of bullying and corruption relating to the Dundee FC return.
"At last, Rangers have issued their 'dossier' and we will now take time to review it, before responding to all 42 clubs.
"Since Rangers publicly demanded the suspension of the SPFL's chief executive and legal counsel, everyone in Scottish football has waited patiently for them to present their case.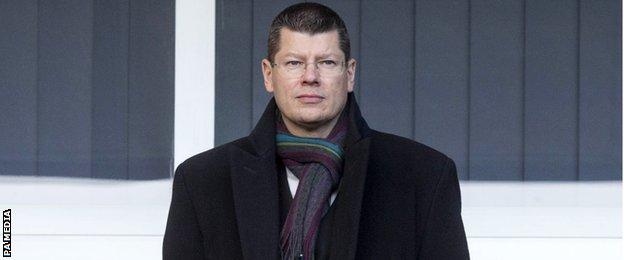 "However, an initial examination of their 'dossier' has failed to identify a single shred of evidence to support Rangers' vociferous claims of corruption, bullying and coercion by SPFL staff.
"If Rangers have any good reason for Neil Doncaster and Rod McKenzie to be suspended, we have yet to see it."
The EGM set for next week was forced by Rangers - backed by Hearts and Stranraer - who need the support of 32 clubs for an inquiry to take place.
A meeting of the 12 Premiership clubs - and Championship winners Dundee United - has been delayed until Friday as they digest the contents of Rangers' evidence.