Northern Ireland Football League to seek extension of 2019-20 season
Last updated on .From the section Irish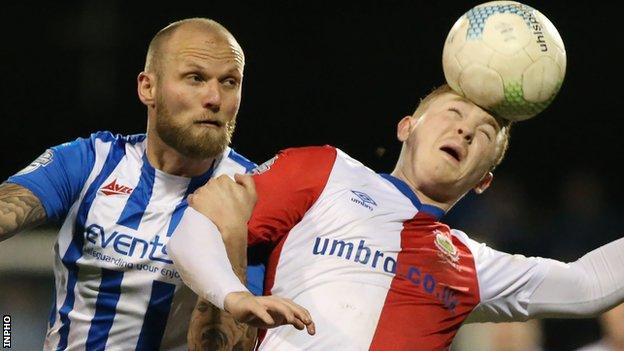 The Northern Ireland Football League is set to ask the Irish FA to request an extension to the 2019-20 season for all its leagues.
NIFL has also said that it will inform the IFA and Uefa that it is not possible to conclude the current season ahead of the 20 July deadline.
The European governing body has asked for campaigns to be finished by then so that teams can be nominated for European competitions.
NIFL issued a statement on Friday.
It followed consultation meetings that were held this week between Irish Premiership, Championship, Premier Intermediate League and Women's Premiership representatives.
"As reflected by the discussions at the meetings, there remains a desire from member clubs to conclude the current season by playing all remaining fixtures subject, however, to due regard being given to the above principles," the statement said.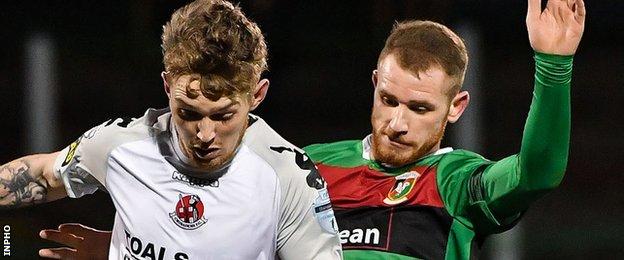 NIFL also said that it will consider the impact of the IFA's player registration sub-committee meeting next week, which will consider the issue of Irish League players who were due to come out of contract at the end of the 2019-20 season.
Uefa has given the NI football authorities a 25 May deadline to submit plans for concluding the current season, with all football activities having been suspended in Northern Ireland since March due to coronavirus.
The current lockdown suspension of football is until 31 May but the return of football still looks likely to be months away following NI Executive's publication of its plan for easing the Covid-19 lockdown.
"The purpose of the meetings was not to reach a decision on the conclusion of the current season," NIFL's statement continued.
"Due to the fluid and uncertain landscape, and the existence of so many factors outside the NIFL's control, this would not have been practical or realistic.
"Rather, it was to act as the next stage in the Steering Group's consultation process involving member clubs."