Ross County: Stuart Kettlewell to manage club as Steven Ferguson named CEO
Last updated on .From the section Ross County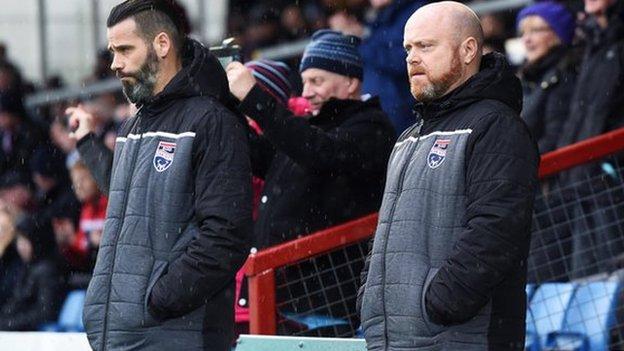 Ross County have announced that Stuart Kettlewell will take sole charge of the club as manager.
Kettlewell has shared the role of co-manager with Steven Ferguson for the last two and a half years.
As part of an internal restructuring at the Scottish Premiership club, Ferguson has taken up the role of chief executive.
"We believe this [restructure] is the right way forward for the football club," said Kettlewell.
Coach Richie Brittain has been named as Kettlewell's assistant, with midfielder Don Cowie as first-team coach.
Ferguson admits he is not a "ready-made CEO", but says he will not shirk from the challenge.
"It's a big step for the football club, we're travelling in a direction that is uncharted in so many aspects," he said. "It's one that we feel we're going to be best equipped this way to deal with what comes, than the regime we have had for the last two and a half years.
"I never shirk a challenge, and it is going to be a challenge - I'm not going to say I'm a ready-made CEO. I have to be open to learning and dealing with people already in place at the football club or in positions more knowledgeable than me in certain aspects, and I have to surround myself with the right people to take that on quickly.
"I'll still have an input and I'll still be a sounding board for Stuart, as he will be for me - that relationship still stands."
'Neither of us have an ego'
Kettlewell, who led County's under-20 team before being appointed co-manager in 2018, says he is relishing the challenge of being the sole manager.
"We will now have a slightly different remit, and slightly different conversations with each other; with Steven in that over-arching role, that link between myself and the chairman, and we're very comfortable with that," he said.
"We said all along in this process that none of us have an ego and all we wanted to do is the best thing for this football club."