Irish Premiership: NIFL defers decision on season's end until after Uefa meeting
Last updated on .From the section Irish
A decision on how to end the Northern Ireland Football League season has been deferred until after Uefa discusses European competition dates next week.
This follows a marathon meeting of the NIFL board on Friday.
A NIFL statement said it "would anticipate that (Uefa) meeting will fully inform the process and dates of all Uefa club competitions".
"This will enable the NIFL Board to make decisions based on fact rather than speculation," added the statement.
Friday's decision is the latest twist in a long-running saga of how to complete the Northern Ireland campaign amid the Covid-19 pandemic.
Uefa deadline on 30 June
Uefa has previously imposed of deadline of 30 June for a decision to be made on the Northern Ireland campaign.
Earlier on Friday, Uefa told BBC Sport Northern Ireland that it was expecting "plans for the domestic league and cup competitions" following Friday's NIFL board meeting which "should include match dates and format".
However, those kind of details were noticeably lacking from NIFL's statement, which came after another day of feverish speculation in local football circles.
NIFL added that its board had written to the Irish FA to "enable them to send an update to Uefa ahead of this meeting", which will take place on Wednesday.
"The representatives of the Premiership clubs met yesterday and have advised they wish to continue to consult collectively on a way forward," continued the NIFL statement.
"The NIFL Board are agreeable to giving clubs further space to formulate their plans ahead of a Premiership Management Committee once information from Uefa is available.
"This time will allow for further dialogue with the Irish FA and NI Executive on a return to football and consequently we have agreed to defer today's proposed deadline for final Premiership club response until a later date."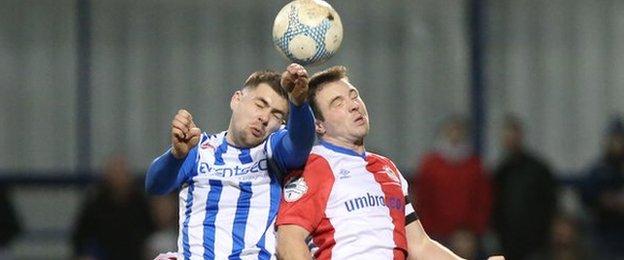 European money "huge and complicating issue"
On Thursday, there was speculation Irish Premiership clubs had turned down NIFL proposals to end the campaign by instead declaring that they wanted to play all seven remaining matches.
The redistribution of £1m of European money remains a huge and complicating issue in the saga.
There were suggestions on Thursday that 10 of the 12 Premiership clubs had already agree they would share the European money if the league was ended now, but they were previously informed this was not possible.
On Tuesday, NIFL gave clubs two proposals on finishing the season.
Those options were to finish the season on the pitch by playing two more rounds of fixtures, meaning teams would have played each other three times, or for an independent panel to choose a mathematical formula that would determine final league standings.
The clubs were initially asked to cast their votes on these options by 17:00 BST on Thursday, but that deadline was then extended until 15:00 BST on Friday.
A number of clubs had told BBC Sport that they felt 'backed into a corner' regarding the NIFL vote after being given the two options on Tuesday.
One of the clubs, Crusaders, wrote to the Health Minister asking for government intervention and advice in the process.